I've been meaning to write about both of these for a while, but I'm just now getting around to it. I don't know where my time is going. And how is it Thanksgiving NEXT WEEK?!?! It's just unbelievable.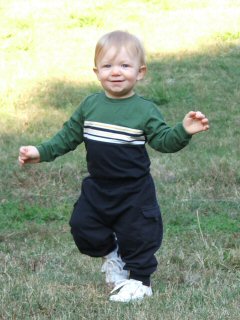 Anyway, about three weeks ago, we finally took Luke outside to play for the first time. Now, for all of you who think I am a terrible parent, I had very good reasons, not the least of which is that I don't enjoy greasing up a baby in sunscreen. He's so fair (like me) that he needs it if we're going to be out side after 9 AM and/or before 6 PM. And since he didn't start walking until late enough in the year that it was getting dark around 6 PM, that just didn't work too well. But we did manage finally on a Saturday afternoon, just after snack, before dinner. He had a ball! Didn't think too much of the grass (sure didn't want to touch it to pick himself up if he fell), but the running around part was a blast!
Lots more outside photos here
, if you're interested.
Then, it was the day I had been dreading since he was born. He didn't have much hair to start with, so it wasn't a big deal. And it didn't seem like it would ever come in, either! But at some point this summer, it really started thickening up and filling in, and getting long. (See "before" pic at left; note the curl in the back.) I refused to have it cut before his one year portraits (as you probably noticed), because I wanted him to still have all of his hair one year later (we'd made it that far, after all; a couple more weeks wouldn't kill us, despite it driving my husband bonkers). Finally got it cut last week.
Now, you have to understand, I distinctly recall my mom getting my brother's hair cut for the first time, at age 2 (a little older even, I think). He screamed and wailed, and cried and cried and cried. I'm not sure who suffered more trauma that day, him or my mother! Anyway, it was with these visions dancing in my head that I took him to the salon. Yes, I said the salon. In fact, it is a salon *just* for kids. I thought, at least for his first time, it might be better to be in a kid-friendly atmosphere with someone who is accustomed to using scissors around moving targets that may or may not be screaming at the time. I also figured they would do a better job of not scalping him! I just didn't want it way way short, and every time I have ever been to get my hair cut, they always cut at least 50% more than I asked them to. VERY annoying, and the last thing I wanted for Luke.
She did such a good job. She took it very slowly, about 1/2 inch to start with, then two more rounds of 1/4 inch until I was happy with it. Actually, after I told her I didn't want it really short, she left it much too long! LOL I guess she's seen enough hysterical mothers over having cut too much off, so she was being careful, and I appreciated it. I like the way it came out, but I was so afraid DH would say I hadn't taken enough off. He seemed happy with it, though. Maybe next time I'll let them go a little shorter. We'll see.
More haircut photos here
, if you're interested.
Luke did great as well. He never cried, he never got upset, he never even gave a 5 second warning (when he sticks out his lip in "ultimate pout" mode, you have about 5 seconds to do something before he dissolves into tears). I can't say that he was having fun, but he certainly wasn't miserable. He didn't think too much of the clippers (the electric buzzing kind for the back of the neck), but he still didn't cry, and she was very quick with them. He even got a certificate of bravery for his first ever haircut. I am *so* pleased that it went so well, and I think he looks pretty darn spiffy, even if I do say so myself.
Currently feeling:
relieved