We took Luke to his first Braves game at Turner Field the first weekend in May. It was not his first baseball game or his first Braves game. He's been to several Braves spring training games during our annual Disney trips. It was not his first visit to Turner Field, either. We went to "Fan Day" in March of 2005 when they opened Turner Field to show off their (at the time) brand new hi def outfield screen. We watched the Florida spring training game on the big screen and sat in the expensive seats for free! LOL Luke was 5 months old.
This time, we did it right. We took Luke on MARTA for the first time:
And took the bus from Five Points to the station (I *hate* that they are making you go through Underground again; I thought they had stopped that nonsense). We took a quick group shot upon arriving: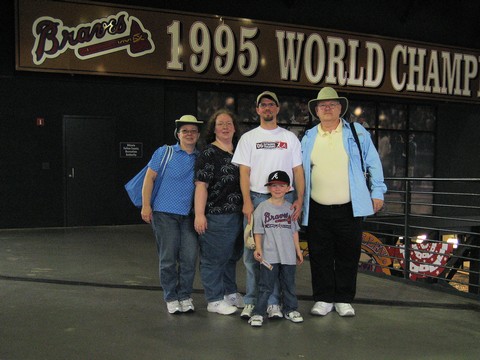 Then headed to our upper deck seats. I went all the way to the stadium a few weeks ago so that I could specify where we sat. I wanted seats that were not on the very top row of the center section (Ticketmaster's idea of "best available"). I wanted something much lower down, even if that meant being more towards one of the bases, plus I didn't think my dad (who had knee surgery not too long ago) wanted to hike all those stairs. I chatted with the ticket window lady and got section 410 (5 sections from center), row 8. Awesome!
We were playing the Astros.
We got to watch a whole 10 minutes of the game. And then it started raining. And then they covered the field and officially declared a rain delay. That's not a blurry or noisy picture, BTW, it was raining that hard!
We all hiked up to the top to the few covered rows (why did I bother getting the lower seats?! we could have sat up that high right behind home plate via Ticketmaster) and waited.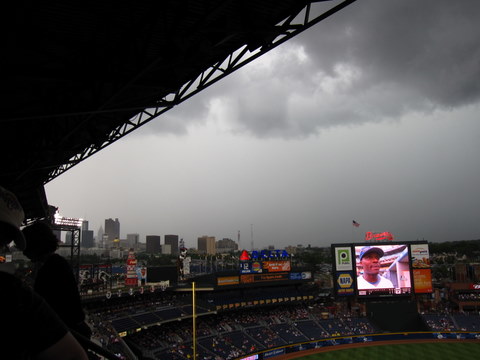 And waited....
And waited.
May as well eat while we wait, seeing as it is now nearing 5 PM (game started at 3:20, so we could do lunch and rest time at home, and still make the game, but not be out past bedtime).
Those are two separate pieces of pizza! He ate all of the first one (first picture, except the crust; takes after DH there), and you can see from the second picture how much of the second piece he ate. The poor child was starving. Finally, the game restarted,
but our original seats were too wet to sit in, and we had forgotten to bring towels, so we stayed up top (boo). The sun did peek out briefly,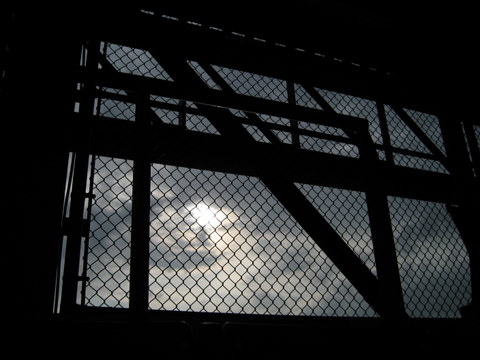 And we did finally get him to "do the chop" correctly (mostly):
Photo Sharing - Video Sharing - Photo Printing
but by then, it was time to go. We had been there for nearly 2.5 hours, an hour and 37 minutes of which were spend in rain delay. So, not a great day, but okay. I seem to recall that it rained the majority of his first Braves game in Florida, too. Guess we're just keeping with tradition.

Currently feeling:
tired of baseball rain