I heard about this show a few years ago. I believe it was the summer before Luke turned 2. It just looked and sounded so amazing, but I figured it would be both too long and too scary for a not-even 2-year-old. I really hated to miss it, though. *I* wanted to see it! Thankfully, I stumbled onto an advertisement for it a month or so ago in a newsletter on the day the tickets went on sale. It was only here for a few days, and I was determined to take Luke. Even my parents wanted to come.
I had never been to the Gwinnett Arena before, so when I selected our seats, I really had no idea how good (or not) they might be. It was much smaller inside than I was expecting, but that isn't a bad thing. In fact, it gave us better seats than I thought we had. Very nice! I could have done without ushers asking to see my tickets every 30 feet or so (you just watched me talk with the previous woman; why do you think I got lost (or snuck in) between her and you?!), but other than that, it was lovely. The show started, and there were ooos and ahhs aplenty. They really were so very impressive! But don't just take my word for it; see for yourself.
Everyone was enthralled.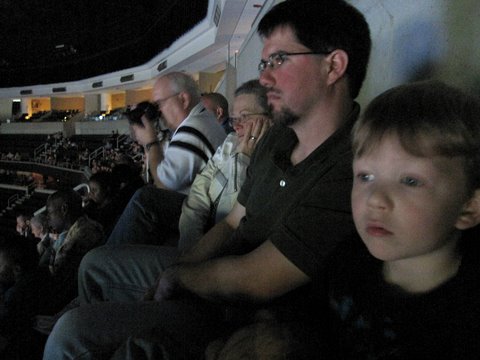 Luke got a little restless at the intermission and wanted to leave. I do think it was on the upper edge of his intensity tolerance; taking him when he was 2 would have been a disaster. He was also very very tired and had been putting up with all of our stress and dragging him around past his bedtime with house nonsense in the previous week. He was fine once the show picked up again.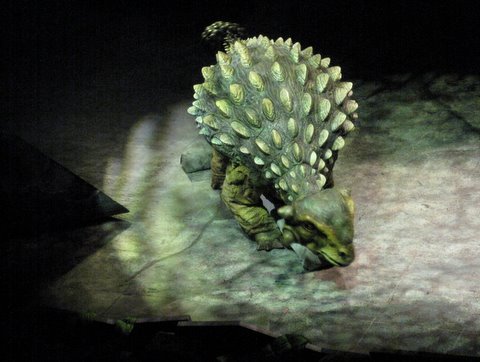 Having a couple of these things on the stage at any give time was impressive enough, but three of them? Wow!
It really was amazing, and I'm so glad we all went, despite the meltdown Luke had when we left. Still, I think we all enjoyed it.
Currently feeling:
impressed