Previously -
Disney 2010, Day 1, Part 1: Epcot
Not as much to write this year, so I thought I would try to break it up into slightly smaller segments.
After leaving Epcot Thursday after lunch, we had a nice rest before returning to Disney Hollywood Studios for the afternoon. Again, we had a lot to (try to) cram into a very short span of time, so we had to be inside the park before 4 PM, preferably around 3:30, and as I recall, we were cutting it pretty close. We split up as we entered, DH running over to Toy Story Midway Mania to see if there were any fast passes left (there weren't), while Mom, Luke, and I headed to the back of the park for Luke's favorite: the Lights Motor Action stunt show. We had terrible seats (far left, really high up), and I tried not to duplicate a bunch of the pictures from last year, but I *did* get the photo of the car flying through the explosion that I missed last year (with my little point and shoot camera, even). Go me!
After that was one of two missed attractions from our previous trip: the Indiana Jones Stunt Spectacular. I know this was new for Luke; not sure about Mom (if she had seen it, it was many years ago). We actually ended up with excellent seats for this one. I think we were about 7 rows from the stage? Something like that. Here is an example of how close we were. I was using *no* zoom with this shot.
With the low light, no flash, and quick movement, not many of the photos came out well (and I didn't take the big camera this year), but some did. The sun was still out, though setting, and when they opened up the set for the outdoor "shots," I managed some okay pictures, like these acrobats: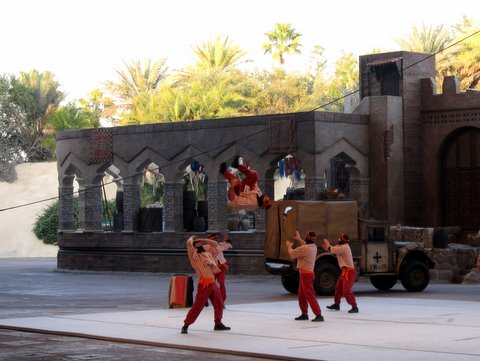 And of course, the plane explosion (which happened on our side of the stage).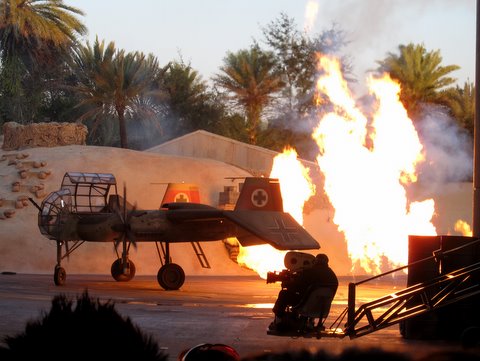 After that, it was clearly time to eat (I think it was after 6 PM, and we usually eat well before then). The Indy show dumps you out right at the Backlot; readers of my previous trip reports know that we eat there frequently when at the Studios. Except that they closed at 5 PM that day. Seriously?! Great. I had no idea where else Luke might eat. The Commissary was closest, but that also meant walking past the Star Wars shop, so we went ahead and did that next. Thank goodness, because had we not been redirected to a different restaurant, we may well have run out of daylight to take our annual speeder bike photo. That would have been awful!
(
Click for the speeder bike time line.
)
And now, the moment we had all been waiting nearly a year for: Toy Story Midway Mania!
Yes, it was open.
No, we didn't have fast passes. Yes, the standby line had a wait time of 60 minutes. Yes, we waited anyway.
Mr. Potato Head and our surroundings kept plenty us entertained. Yes, the theming is as awesome as you've heard.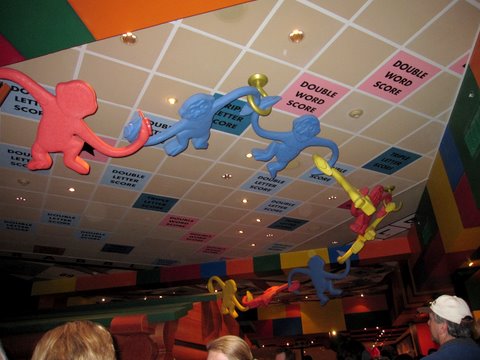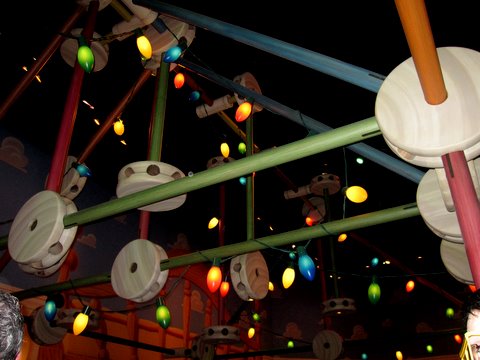 Yes, it was worth it! Yes, it is as fun as you've heard. We all had a blast. Totally worth a 60 minute wait (though we actually only waited about 40).
No, I didn't get any shots of any of us actually *on* the ride, sorry. But it was great fun! Just practice before you go. Try to crank your lawnmower using the pull cord about 100 times every day for a month, and maybe your arm won't feel like it is about to fall off when you get off the ride! LOL
By now the sun had set, which meant two things: the temperature was dropping rapidly, and it was time to decide whether or not to attempt Fantasmic. Luke was dying to ride Toy Story again, but I knew Fantasmic would fill up in a hurry (the first show was about to end, which meant the second show would start seating soon). So we split up. DH took Luke on Toy Story a second time (it was now properly showing the 40 minute wait time), while Mom and I headed to the Fantasmic theater for seats, securing hot chocolate for her and DH on the way. I had also been smart enough to pack layers for everyone and some compact blankets in the backpack before we left. As it turns out, that was a *very* good thing, since we discovered the next morning that it was 37F (3C) while we were sitting in the open air amphitheater on very cold metal benches. BRRR! Thank goodness it wasn't windy. DH and L made it just as they dimmed the lights to start the show, and after that, no one much noticed the temperature.
Luke *loved* it! It may have caused us to have a very late night, but it was totally worth it.
Next time -
Disney 2010, Day 2: The Magic Kingdom
Currently feeling:
fantasmic