Previously -
Disney 2010, Day 1, Part 2: Studios
Given our late night on Thursday at Fantasmic, we pretty much let Luke sleep as late as he wanted on Friday. The Magic Kingdom is always the busiest park, so we thought it might be best to get to it on Friday instead of Saturday. Since we still needed to drive back to my parents' house on Saturday after we finished at the parks, and Animal Kingdom closes early, it also made the most sense to do it on Saturday until close at 5-6 PM, then drive back.
We arrived at the Magic Kingdom via ferry (upper deck this year) around 10 AM, I think, and it was still pretty chilly. We only managed two rides on Thunder Mountain before lunch, but that's okay. Mom and I stopped in the Columbia Harbor House as we passed through Liberty Square to pick up lunch for her, then carried it over to Pinocchio's Village Haus, where DH and Luke got sandwiches and pizza. We had good Small World window seats again this year.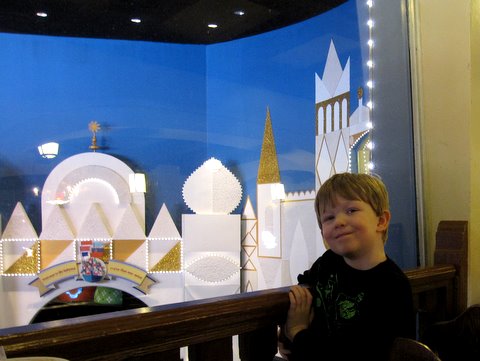 The line was long for both it's a small world and Peter Pan as we left, so we picked up Peter Pan fast passes and headed for Tomorrowland, where we rode Buzz Lightyear (which I somehow neglected to take photos of this year). After that, it was really time to leave the park for nap, but Luke seemed to be doing pretty well, and DH convinced me to skip nap and let him stay. I knew there would be no nap the next day, but I didn't really want to leave either, so we stayed (and boy, would we pay for it later!). We did have something resembling rest time, though. We did the Carousel of Progress (where we had front row seats):
And the Tomorrowland Transit Authority. See how bundled up Mom was? It was still pretty chilly going at speed on the TTA, but nothing like it had been the previous evening at Fantasmic. It was a beautiful day, though, and we had a great view of the Tomorrowland rocket tower as we whizzed by.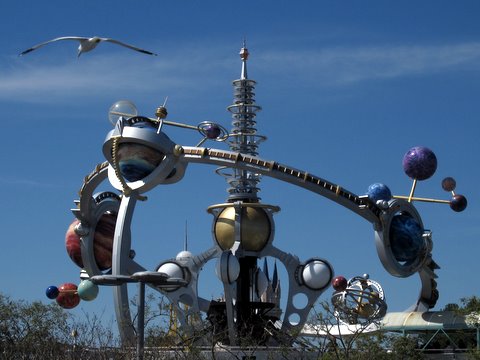 As you may recall
from last year's trip
, Mom and I had made it a special point to ride Space Mountain before it went down for refurbishment, and we both agreed that it was really time. I was afraid they would gut the ride and completely change it, but they didn't. In fact, it was great! They kept my favorite tunnels, the ride track was largely the same (which the purist in me loved), but it was so smooth! Clearly, it is a modern steel track with modern wheels on it. They also made it virtually pitch black in there. I mean, it's always been dark, but with all of the "stars" around, it was still light enough that you could get the gist of where you were headed at least some of the time. Not so anymore! I don't know how they did it, as there actually seemed to be more stars now than before, but it was DARK in there. I was sitting in the very front seat, and I had absolutely NO idea where we were going at any point in time. Very fun! But still too dark for me to be comfortable letting Luke ride sitting in a seat by himself. Will probably be another year or two before he's allowed to do that one.
While we were doing that, DH took Luke onto the Tomorrowland Speedway, then on Buzz Lightyear again. After that, it was time for snack, and since Luke had been asking for ice cream for two days, we decided to indulge him. It had also warmed up enough that we could take off our jackets and not freeze (ice cream not withstanding).
By now, our Peter Pan fast pass times were up, so we ran over and did that, then hit the teacups (again, not the most efficient touring plan, but it got us on the stuff we wanted to do).
And then we did the Barnstormer. We were behind a mom and her 4 year old daughter, and the mom was looking *terrified* to take her daughter on the ride, even though the daughter was begging to do so. I reassured her that Luke had been riding it since he was 2, and that no one is a bigger roller coaster chicken than my husband, and even he will ride it. "But it's so fast!" Well, yeah, that's the general idea, but it is also very short, so even if she (you!) gets on it and doesn't like it, it's over very quickly. Sure enough, the daughter absolutely loved it! The mom looked a little shaken when she got off, but I think the sheer delight on her daughter's face made it okay.
I really wanted to be sure and do the Barnstormer this trip, since I had heard that they will be tearing down Mickey's Toontown in the near future to make way for a massive Fantasyland expansion. Now, I've never been a huge Toontown fan, personally, but this bothers me on two levels. First, why get rid of the only place in all of Disney World dedicated to the classic Disney characters? That has always baffled me about Disney. Until Toontown (and now Philharmagic), there were no "Fab 5" Disney attractions. Secondly, I am not at all fond of the things I am hearing about this expansion. Rumor says they're more or less turning it into "princess land", but I will try and reserve judgment until I see what they've done. I was afraid they would be getting rid of the Barnstormer (I can't envision a princess roller coaster!), but I do hear they will be keeping it and retheming it, possibly as a dragon coaster for some sort of "boy corner" of princess land. We'll just have to see.
By now, it was time to eat again, so on to the Starlight. We hit Buzz one more time before leaving Tomorrowland for this year, then headed over to Big Thunder for our final rides of the night. (Sorry for the lack of photos. I didn't take that many.) I think I rode once, then sat out to complete some unfinished business from the previous year: funnel cake! LOL Except that funnel cakes come with lots of powdered sugar. And it was windy! I looked like I'd been snowed on, and I had to sponge off my (navy!) jacket when we got back to the room. We hit Pirates of the Caribbean as we headed out of the park via Adventureland. Luke was still a bit nervous about Davy Jones, but he did okay when we explained that it worked just like the water screens at Fantasmic (just using superfine mist/fog instead of water spray). I don't really remember much after that. Seems like we got out just as the fireworks were starting? Pretty sure we did the monorail back to the Transportation and Ticketing Center. (This is what happens when it takes you a month to write things up! LOL) Thus ended a long but very good day at the Magic Kingdom.
Next time -
Disney 2010, Day 3: Animal Kingdom
Currently feeling:
mousey