I've always gone through phases of painting my nails and then not. The polish world has exploded in fascinating options in recent years, something I was not really aware of until Pinterest. After seeing so many photos there of really interesting colors and brands, I decided to make my first visit to one of the make up meccas of the world: Ulta. Mom went with me (yeah, really had to twist her arm there). Who knew you could spend nearly 2 hours looking at nail polish?! LOL And what did those two hours get us? Mine are on the inner ring, and Mom's are on the outer. I have them labeled below.
Inner Ring (mine) - clockwise
I1 - Skyscraper by China Glaze
I2 - Fireside Glow by China Glaze
I3 - Rock the World by Orly
I4 - Caribbean Frost by Wet n Wild Shine (stained my nails!)
I5 - Till I'm Blue Over You by Pixel
I6 - Blue Belle by Orly (mini)
I7 - Goth by Orly (mini)
I8 - Black Out by Orly (mini)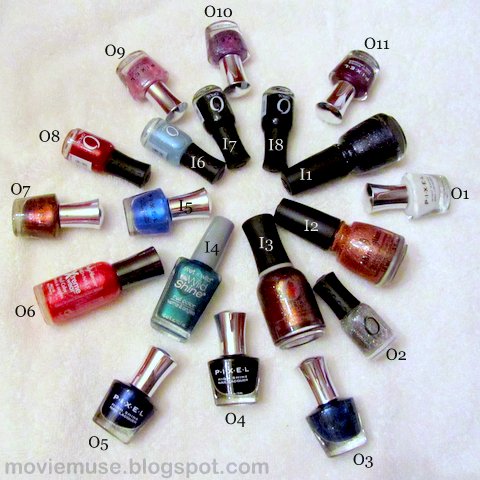 Outer Ring (Mom's) - clockwise
O1 - White Static by Pixel
O2 - Diamond by Orly (mini)
O3 - Oh Pardon Me by Pixel
O4 - Soul Searching by Pixel
O5 - Humdinger by Pixel
O6 - Very Cherry by Sally Hanson Xtreme Wear
O7 - Oh Goly Gee by Pixel
O8 - Star Spangled by Orly (mini)
O9 - Spam a Lot by Pixel
O10 - Oh Wow by Pixel
O11 - Deep Dark and Handsome by Pixel
Should I mention that we each picked up about 6 bottles later in the evening? Nah, we'll just pretend that didn't happen. :-) Mostly Sinful Colors, if I recall correctly, but I know I got a Milani and a Wet n Wild, too. I'm sure I'll be showing those off later, but tomorrow, I will be using the Orly Rock The World that Mom bought for me ($10 on a single bottle is more than I could stomach right now; thanks Mom!).
Currently feeling:
girly