Previously:
Disney 2012, Day 2: Epcot
Looks like we managed to do a bit better on our arrival time to The Magic Kingdom on Saturday. My parking lot row number/section photo was taken at 8:55. So, we didn't quite make it for rope drop, but we were close. In fact, we were early enough that I got some nice unobstructed photos of the Cinderella mosaics inside the castle.

Click to biggify.
And the beautiful tops of the columns. How many people have been to Disney multiple times and never noticed the lovely little details like this?
I imagine that we snagged Peter Pan FastPasses first thing, then decided to hit some other things in Fantasyland. (The new part wasn't open yet; we missed it by just a few weeks.) We hit Winnie the Pooh first, which Luke didn't really remember having done before:

Click to biggify.
And then we headed for Snow White's Scary Adventure. *Really* should have taken some photos of the outside, since the ride is now closed forever, but I did get some very nice shots inside. I don't think Luke had ridden it before.

Click to biggify.
Next up was Peter Pan, my personal favorite, as you all know. I did try to take some pictures, but man, it is DARK in there, and the ships are whipping around a lot faster than you realize (until you try to take a picture)! These turned out okay (they're a little blurry at full size), but most of the ones I took were not good at all.

Click to biggify.
After Peter Pan, we ran across and did it's a small world, where I got tons of great photos. Here is a sampling:

Click to biggify.
I thought this one was particularly nice: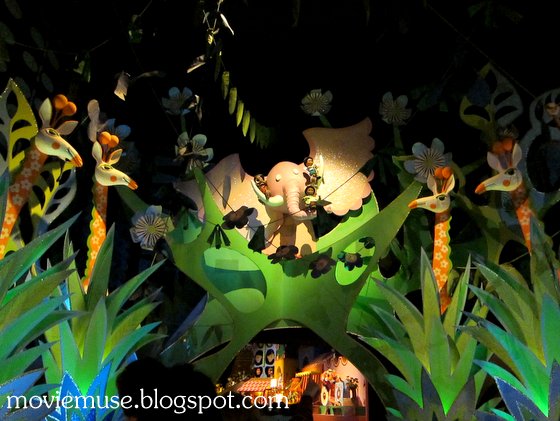 And I just can't get enough of this smile:
We still had a little time to kill, so I whipped out the Disney Parks app (no affiliation, just a happy user) and saw that the Tomorrowland Speedway wait time was a reasonable 25-ish minutes.
That timed things perfectly for our "new to everyone" Magic Kingdom item: lunch at The Plaza.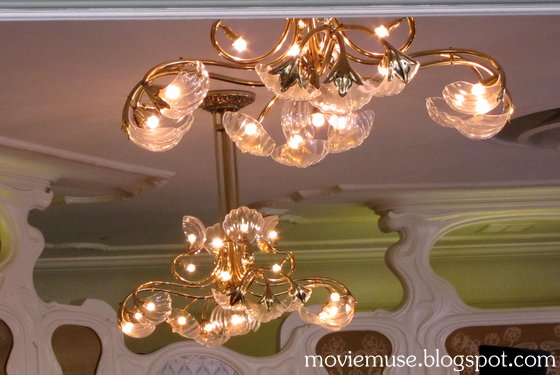 There was a lovely view from the door near our table:
Again, no exterior or sign photo (I was a total photography failure this trip), but the interior was quite lovely. And small! Good grief. No wonder they always looked packed; they always are! So small, in fact, that there are no bathrooms inside. You have to go to the ones nearby that are shared with the Tomorrowland Terrace restaurant (only open seasonally, and has never been open when we have visited in March). It's not that bad, just a surprise to ask our waitress where the restrooms only to be told there aren't any inside.
We selected The Plaza for three reasons: 1) It was one of those places I had always walked by on Main Street and thought it looked quaint. 2) It was new to everyone. And 3), several friends had raved about their Tomato Bisque soup. It truly was outstanding, so much so that it is the only dish I took a picture of. I think everyone got a sandwich of some sort. Reviewing the menu now, I would guess I did the turkey, Mom did the Reuben, and DH did the Club; maybe DH got a burger, but I genuinely don't recall now. But seriously, I'm salivating remembering that soup. YUM!
Next up was yet another new thing, this time for Luke. I knew he would be hugely disappointed that Big Thunder Mountain was closed for rehab. How ever could we make it up to him? Perhaps by letting him ride a new roller coaster!
You may have noticed that Luke has not ridden Space Mountain before, despite the fact that he cleared the height limit quite some time ago. Yes, I'm the weird mom who put him on Expedition Everest and The Rockin' Roller Coaster before letting him ride something as "tame" as Space Mountain. Why? Because I could sit beside him on those rides (and because The Rockin' Roller Coaster has over the shoulder restraints, so between that and the physics of the ride, there is NO chance he's coming out of that seat). If he got scared or upset, I would be there, right beside him. But on Space Mountain, you sit by yourself, in a single bucket seat (three seats to a car, two cars to a train), with only a lap bar to hold you in.
There are no huge hills or loops or anything like that on Space Mountain, so from that perspective, it really is a fairly tame coaster. Thus, a lap bar is perfectly sufficient for safety, assuming you follow the rules! You MUST stay seated and under that bar. Remember that Luke has been tall enough to ride Space Mountain since he was 5, but I frankly did not trust him at that age to sit in his seat in near total darkness. What if he tried to get up? What if he got scared and wanted to turn around and see me? In the darkness, I wouldn't be able to see him to stop him. With all the noise, I wouldn't be able to hear him if he called for me. From behind him, I would not be able to comfort him if he got scared. The ride tunnels are small, and the ride frame is very close to the cars, though how close is well masked by the darkness. If he stood up or tried to get out of his seat, not only could he be seriously injured simply from the speed or being thrown from the car, it was at least possible (in my mind) for him to hit his head on something. I'm quite certain that when the height limit was set at 44 inches (1.11 meters), it was intended to keep kids that young off the ride; Mr. Behemoth Child just had to be "special." To me, it simply wasn't worth the risk, so I hadn't let him ride. I debated about it last year, but the ride itself kept breaking down, so we didn't bother getting in line or getting a FastPass. But this year? ::said in her best Lion King Rafiki voice:: It is time!
Here is a very blurry picture of him at the end of the ride. I think he liked it, what do you think?
I think we probably grabbed Buzz FastPasses at this point. I know we hopped on the Peoplemover. Here is Luke showing off his official Space Mountain badge as we ride (he specifically asked me to take this picture).
We hopped on Buzz Lightyear Space Ranger Spin after this, but again, no good pictures. I'd guess we probably waited in the queue, based on the picture time stamps. We caught the Carousel of Progress after that, then back to Buzz (likely with FastPasses), then we headed to Adventureland for snack time. You see, I was on a mission. When people find out that I've been to Disney nearly 20 times in 30-something years, but I've never had a Dole Whip, you'd think I said that I'd never seen Cinderella's Castle or something. "You've NEVER had a Dole Whip??!!!!!" Um, no, sorry.
Click to biggify.
Is everyone happy now?! LOL It was good, but I did not experience the rapturous transcendent experience that most people seem to have. I'm just not a huge pineapple fan, sorry. But I am glad I tried it. Yay, another new Disney thing! We actually consumed our snacks at the Tortuga Tavern (formerly El Pirata y El Perico), then slipped across the way.
I won't repeat photos similar to what I've shown in previous years, but here are a couple of new ones. This scene now appears in the tower of the queue.
And finally, a decent shot of Captain Jack Sparrow at the end (where the boats backed up, so we were nearly stationary).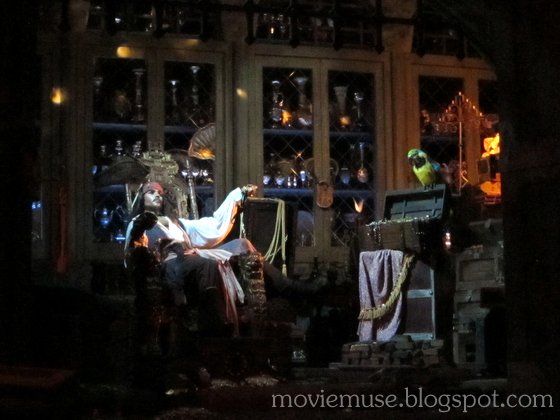 With no Big Thunder Mountain to occupy us, we convinced Luke to try The Haunted Mansion again this year. He had been resistant last year, so we didn't push, but he decided he could be brave this year. Yet again, no pictures actually turned out well enough for me to feel that I can show them. Afterwards, we ate dinner, though I have absolutely no idea where. Knowing us, it was most likely either Pinnochio Village Haus or the Starlight, but I really don't know. But I can tell you that we were in Tomorrowland by 6:30. How do I know?
Because we were in line for the Astro Orbiters! We hadn't really intended to ride it. The line is always dreadfully long. But as we walked by (probably on the way to the Peoplemover), we noticed that the line was about the shortest I had ever seen it. I believe it was completely contained within the permanent queue and was quoting 30-40 minutes. I know Space Mountain had a much longer wait than that and was out of decently timed FastPasses (they were for like 9:30 or something, and we would be gone by then). None of us had ever ridden it before, even though Luke had frequently asked. So let's go!
First off, you should have seen Mom and me trying to fit into one rocket. Let's just say that two full size adult women, even if we were size 8s, might have been tight. And we're not size 8s, either of us. It was absolutely hysterical with us trying to twist and turn and fit in with this leg here and that elbow there. We were absolutely cackling. You know that really loud table at a restaurant where everyone is laughing their heads off but no one else can see what is funny? That's about what it was like. I distinctly recall my mother saying, "We should have done this when you were 5, not 35!" Perhaps, but too late now! LOL We did finally manage to squeeze in, but I don't think we'll be trying it again any time soon. But it was absolutely worth it, for these two pictures:
I could not be happier with these shots if I tried. Great camera, wonderful low light setting, and a whole lot of luck. I was taking these pictures behind me, over my shoulder, without turning around or being able to see the view screen. I took four shots, two came out, including one with the Contemporary in it. The perfect end to our trip!
We did do Downtown Disney on Sunday, but it seemed like almost all of it was under construction and/or behind walls. It was also *pouring* down rain. DH and Mom were parking their cars, and each of them had an umbrella, but Luke and I did not. He and I had stopped by the pin store before meeting them at the Rainforest Cafe for lunch when the bottom fell out, so they were dry-ish, and we were literally soaked to the skin. As in, we were SO wet, I bought new shirts for Luke and me at the Rainforest gift shop so we could change (and a frog umbrella for when we left). We did hit the pin shop on the way back. We also popped into the World of Disney shop and the LEGO store, but we didn't stay long. We were just tired and wet. But overall, the park visits had gone very well, and we were properly mouse-ified for another year.
Currently feeling:
ready for 2013