Previously:
Disney 2012, Day 1: Hollywood Studios
We spent Friday at Epcot, where we got to be part of Disney history. I had heard this change was coming, but I didn't know it would be implemented while we were there. On Friday, March 9, 2012, Walt Disney World started enforcing their FastPass return end times. I had learned only the previous year that (at the time) the end times didn't really "count." As long as you came back after the start of your FastPass return window, it didn't matter when you came back. Have a 10:30-11:30 AM FastPass? You (previously) could still use it at 9 PM that night. That totally did not make sense to me, both from a personal perspective and from an industrial engineering/queuing theory perspective. Well, apparently, it finally didn't make any sense to Disney either, so they changed the rules (also in conjunction with the coming-soon MyMagic+/FastPass+ system, I'm sure). So, NO MORE! Now, if you're not back within the window, the attending cast member at the entrance to the FastPass queue can and will deny you entry. (I hear there is some leeway with a few minutes early or late, but it is completely at the cast member's discretion.) They had new red signs on top of the FastPass machines stating this (really should have taken a picture; I was so slack this year!), and it is clearly written on the bottom of the FastPass tickets. But oh, the drama!! I pity the cast members guarding the FastPass lines that whole weekend (and probably most of that year, bless their hearts). It didn't really affect us, since we had always "followed the rules" and returned during the window anyway (you know me).
I have no idea what we really did that morning. (Lost my notes and writing this 11 months after the fact, remember.) I don't even have a parking lot row number picture to mark what time we arrived (unusual for me since I started doing that). The first photo I took was on the Living with the Land boat ride around 10:30. I would imagine we arrived around 9:30, headed straight back to get Soarin' FastPasses, and probably had a snack before doing Living with the Land. After that was the Imagination pavilion to visit with Figment before heading over to The World Showcase for lunch.
Again, I tried to do something new for us each day on this trip. Today was a meal at the France pavilion's more causal restaurant: Les Chefs de France. It was very lovely inside, and because we had one of the earliest reservation times available, we got a lovely window seat with excellent people watching. The bottom of these windows is about at Luke's head height when he's sitting, which was a lovely perspective on things.
Luke would have been perfectly happy with an unlimited supply of bread for lunch, but they blessedly had fried chicken fingers with plain pasta on the kids menu. (He ate the chicken, not the pasta.)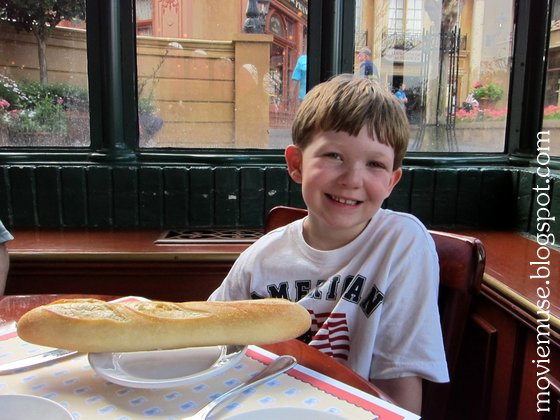 Each of the adults went with the Prix Fixe 3 Course Menu, and we each got something different and shared around. I did the French Onion soup, while Mom and DH did the lobster bisque (not as good as The Coral Reef at The Living Seas!). DH did the Croque Monsieur (toasted ham and cheese), Mom did the Quiche Lorraine, and how could I resist the Gratin de Macaroni (mac and cheese made with gruyere)?

Click to biggify.
Again, everything was quite good, but nothing was amazing, IMO. Well, except the desserts. Those truly were outstanding! In fact, they were so good, they get their own photo montage (we had all taken bites, but I remembered to take pictures before we snarfed everything down). I had the Creme Brulee, DH had the Chocolate Mousse with cake, and Mom had the Strawberry Shortcake with Raspberry Sorbet. And they were all truly fantastic!

Click to biggify.
One of the celebrity chefs also came to our table to make sure we were satisfied with our meal.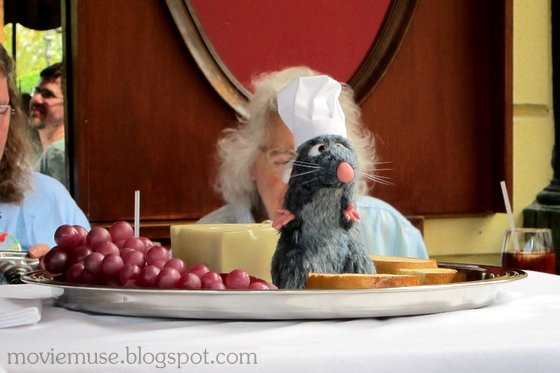 Luke didn't quite know what to make of him. (He didn't talk, he just squeeked.)
I'm not exactly sure what transpired after lunch. I didn't take another photo until after 2 PM, when we rode the Maelstrom (and unfortunately, none of those are worth looking at). It was Luke's first time on the Maelstrom, and though the line was quite long, he did seem to enjoy it. If I had to guess, we probably did The American Adventure before that, but again, there is zero proof. ::shrug:: (Really, I promise to take better/non-losable notes this year, and to take more pictures!!)
Next up was the Mexico pavilion, where we had a snack (nice and dark and cool and somewhat quiet), and we rode the boat ride. And Dad's great low light camera allowed me go get my first decent picture of the fireworks at the end! I had also never noticed that the faces of the Three Caballeros are on the decorative flags until I looked at the pictures afterwards. Nice detail!

Click to biggify.
From Mexico, we circled back around to FutureWorld, where we rode Spaceship Earth. Yes, I was having a little too much fun with my camera! I've never had any pictures turn out decently inside, so I was thrilled to bits.

Click to biggify.
And then we have another mysterious gap in photos. I know we rode Test Track during our visit, since it was about to be closed down for a major revamp and we wanted to do it one last time, but I have no pictures at all from the ride (what was I thinking?!). Not the sign, not the queue, nothing. I would guess that's what we did during this gap, but there is no way to know for sure. It fits the timeline, though, so we'll stick with it. After that, I'm sure it was time for our Soarin' FastPasses (which, as you may recall, we had gotten somewhere between 10 and 10:30 AM; that's how fast those FastPasses go, and I absolutely *hate* waiting in line for Soarin', so I will nearly refuse to do it without a FastPass).
By now, it was dinner time. I whipped out a map to see if anything nearby sounded any better than the Sunshine Seasons food court at The Land (where we were already standing, since that is where Soarin' exits). "Mommy, can I see the map?" Um, sure. I handed it over, and he proceeded to stare at for the next 5 minutes or so, easily identifying where we had been and where we hadn't.
Again, I have no proof of what we ate for dinner, but I'm pretty sure DH ran off to get Luke something he likes from the nearest "fast food" place (probably the Electric Umbrella) while Mom and I handled getting what everyone else wanted from Sunshine Seasons. I did take several photos of the nighttime fountain show at Innoventions, but again, those photos were lousy. Other than that, and a visit to MouseGear (one of my favorite Disney shops), I have no idea how we spent our evening. I suspect there was another ride on Test Track one last time, but I really don't know. ::smacks forehead:: I *will* write up this year's trip in March or April (of this year!!).
I did have my pedometer with me, which reported 5.2 miles (8.37). There were only about 1000 steps difference between the Epcot count and the Hollywood Studios count. I was honestly surprised it wasn't higher than that, since it always seems like we do SO much walking at Epcot. I guess it's because the distance between the attractions is quite large, but once you're there, you don't really walk much, and each "thing" takes a while (and again, steps in queue are not counted, since I didn't take enough steps at one time for it to register that I was walking). I just thought it was interesting that the numbers were so close from Studios to Epcot. I wonder what tomorrow will bring?
Next up, our final day at the parks.
Disney 2012, Day 3: The Magic Kingdom
.
Currently feeling:
full of French cooking