Per the request of a few folks, I am showing the back of my English paper pieced hexagons (that I hope will eventually be a pot holder). Each side of an individual hexagon is 1 inch (2.54 cm), making each hexagon 2 inches (5.1 cm) across at its widest point. I included a US quarter for scale (about 1 inch/2.4 cm in diameter), which is within a millimeter or two of being the same size as a 1 euro coin, a Canadian loonie, and an Australian one dollar coin.
And here are two macro shots of the hexagon corner joins. (The long stitches on each side are the basting stitches that keep the fabric on the paper hexagons.) As you can see, my stitches are far from even and/or pretty, but they get the job done, and none of it will show on the front!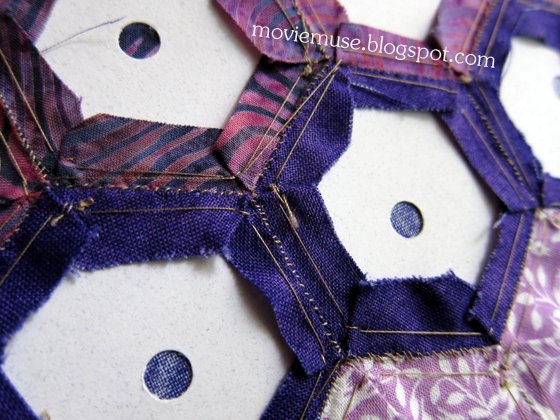 I did find the more tightly-woven fabrics to be easier to work with. Some of the looser ones had a bit of give/stretch to them and didn't lie quite as flat/pretty when stitched together. It's been quite a learning experience! I've already picked my next project. Now I just need to find the time to go select and purchase some fabric. You know, sometime between work and errands and homework and soccer practice/games and Cub Scouts. ::sigh::
Currently feeling:
a little embarrassed at my ugly stitches, but they work!