NOTE: Please be aware that things have changed quite a bit at Disney over the course of the last year. I'll try to note when I know for sure that information is out of date, but it was accurate at the time (late February 2014).
I would like to thank my friend Jennifer for prompting me to finally get our 2014 Disney trip written up. (Yes, I am well aware that I never wrote up 2013, including Legoland. Maybe one day.) She posted some great pictures and photos of her Disney cruise on Facebook within days of getting back from her trip. Given that I've already booked our 2015 trip, I guess it's about time to get 2014 written up. I didn't take a ton of pictures, but I'll post the few good ones.
I'm pretty sure it was after midnight when we arrived, so I'm technically counting arrival day and our first day in the parks as the same day. We didn't do much upon arrival except crawl into bed. My mom, however, had arrived early to exchange our tickets at Guest Relations at Downtown Disney. Because we buy 10 day non-expiration tickets and "nibble" on them for several years, we still had paper tickets with the magnetic strip on the back. But starting in 2014, Disney requires you to have an RFID ticket. Disney Resort guests (those staying at a Disney owned hotel) have the new MagicBands, but the rest of us mere mortals have to use tickets. (This has now changed. Resort and non-resort guests can have MagicBands.)
We spent Thursday at Hollywood Studios, where I somehow managed not to take a single photo until after lunch. Oops! So you'll have to "listen" to me babble without pictures for a bit. When we arrived just after park opening, the parking attendant just waves us on through the gate without us paying. "Have a magical day!" Um, well, okay then. Thank you! That's an extra $15 in our pockets, which might buy lunch (for one person). Remember, Resort Guests who drive don't have to pay for parking, but everyone else does.
Oh, I did take one picture before lunch. This is how we remember where we parked! I take a picture of the row designation as we leave. (I had forgotten it was raining until I looked back at the pictures.)
This was our first time using the "Mickey circle" gates. My advice: keep your card (or band) in whichever hand you don't use for the finger scan, then place your "scan finger" in scanner at the same time as touching card/band (yes, must touch, not just wave) to the circle. Only entrance gates use the finger scanner. The FastPass+ gates do not require a finger scan. (I have no idea why I didn't think to take a picture of the scanners. Duh!)
One of the new MagicBand perks for resort guests is that you can make your FastPass+ reservations up to 60 days in advance. Everyone else has to wait until they arrive at the parks and then go to a FastPass+ kiosk (actually a cast member running a tablet). Non-resort guests can't even use the app to get/change their passes. It is super-annoying! (Again, this has changed since. Non-resort guests can now make FP+ reservations 30 days out and have access to the app functions.) There are signs at the park for where/how to find a kiosk, but take my advice: find one in the back of the park early in the day. The front ones will naturally be busy. Generally speaking, we found "kiosks" at most locations at/near where old FastPass machines used to be, but not always. (I stole this picture of the FP+ sign from our day at Animal Kingdom.)
My husband, bless his soul, took our tickets and booked FP+ for everyone while the coaster junkies queued for Rockin' Roller Coaster. He said the experience can be bad or good depending on cast member who is "driving." Some are definitely better/ more helpful/ more flexible/ more knowledgeable than others.
Also note that Hollywood Studios uses a tiered system (this is still accurate). You can only pick one FastPass+ from Tier 1 and two from Tier 2. Rockin' Roller Coaster and Toy Story Midway Mania are both Tier 1, and there were no Toy Story Midway Mania FastPass+s by the time we got there (keep in mind that we were probably at a kiosk before 10 AM), so we did Rockin' Roller Coaster for our Tier 1 FP+ selection.
(Mainly sticking this photo here so you have something to look at while I jabber.)
Rockin' Roller Coaster had about a 30 minute stand by wait when we got there, which is not bad at all. Luke didn't seem to enjoy Rockin' Roller Coaster as much this year. He even said when we got off that he didn't want to ride again. Huh?! I later learned that he was afraid he would fall out. Um, that's never worried you before. Apparently, when they asked him to "raise up" on his shoulder bar, he felt it wiggle (which they are designed to do). He thought his was broken, so he spent the whole time "holding it down" so he wouldn't come out of his seat. Poor baby! No wonder he didn't enjoy it/want to ride again. I wouldn't think that was fun, either!
We met up with my husband right after to learn what FastPass+ times we ended up with: 10-11 for Tower of Terror, 11-12 for Star Tours, and 5-6 Rockin' Roller Coaster. Hmm, that pretty much kills any chance for lunch. Any chance we can move them? Which necessitates a trip back to a kiosk, ggrrrr! (Thankfully, there was one where the old Tower of Terror FP machines were.) While discussing things, we noticed that the Tower of Terror standby time was still only 10-ish minutes, so we did standby first and then our FP+ return. DH managed to move our Star Tours FP+ return to after lunch (got 12-1).
It was after 11 by then, so we headed over to new to us restaurant: Mama Melrose, only to discover it doesn't open until Noon for lunch, ACK! (The map/guide did say that, it just didn't dawn on me to check it, since every other Disney restaurant that I am aware of opens at either 11 or 11:30.)
We backtracked to the Sci-Fi Dine-In, where we were told they only had a "flying saucer" table available (picnic table in the very back), but it was either that or a 45 minute wait. I guess we'll have to take what we can get. However, much to my surprise, we ended up seated in a car, though we were on the far right (I guess reservation folks get more centered seats?). The food was fine, but it took *forever* to come out. They had a slightly new film reel running (some new footage, some just re-spliced), which was a surprise. Yes, we've eaten there often enough to notice new footage! I really wish they would show some Disney space cartoons. I'm sure there have to be some.
We hit the speeder bike after lunch for the required photo, then did our Star Tours FP+, followed by Lights, Motor, Action! We're to the point that the best part of the show is now the reactions of people who haven't seen it before, but it's still fun.
Next up, we headed over to Toy Story Midway Mania, ready to wait in line for up to 90 minutes, if need be. The sign outside said it was an 85 minute wait, but queue was not even out the door (which it usually is at longer than 60-75 minutes). We ended up with only a 45 minute wait, which was a very nice surprise!
After that, it was time for a a snack break (popcorn, per Luke's request). We got complacent and nearly got trapped by the parade! We dashed across the center courtyard, killed some time with a little shopping, then did the Indiana Jones stunt show. We were quite a bit to the right, but we were only 4 or 5 rows from the stage. I got some good pictures at this one.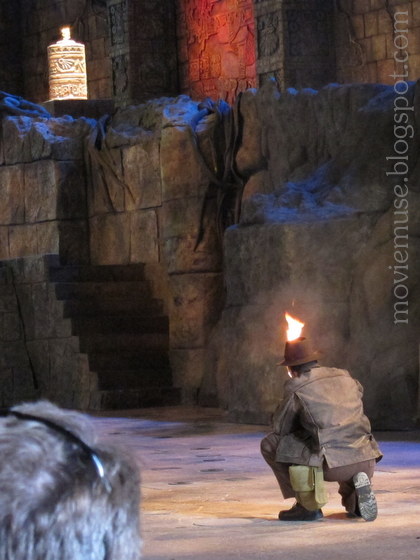 Funny how I had never noticed before that the "bad guy" vehicles don't actually have swastikas on them. This is both an amusing and very effective substitute. I completely understand why! I just can't believe that I've seen the show a zillion times and never realized it.
We caught the Rockin' Roller Coaster twice more (never more than 30 minute wait), and then it was 6 PM. Dinner time! I had intended to eat at the Backlot, but yet again, it was already closed. So were most other counter service restaurants. Why do they close at 5:30?! People do need to eat. That gave us 3 choices: the "food court" type place across from the Beauty and the Beast theater, wait at a table service restaurant, or leave the park. The only seating for the Sunset Blvd. food court is outside, and it was already getting cold. We realized we couldn't leave the park and get anywhere any sooner than an hour, so we decided to see what the wait was at Mama Melrose, since we had missed out on it at lunch. If it was an hour or less, we would just wait.
When we arrived at 6:15, we were told we would be seated around 7. Note that there was absolutely *no one* in the waiting area when we arrived (so thankfully we had a place to sit), but they were packed out to standing room only in less than 10 minutes. Sure enough, they called our name at 6:57 (impressive estimate!). Our waitress took absolutely forever to show up at our table (what was with the food service today?!) and service was slow all night. The food was quite good, though, and it was fun seeing all the Italian movie posters, including The Good, The Bad, and The Ugly, and Empire Strikes Back. (I really thought I had taken pictures of them, but if so, I can't find them now.)
The park "closed" at 7 (though they had Fantasmic). We actually left the restaurant around 8:15. (We are not slow eaters, that's just how long everything took!) There were few guests left in the park, so got some pictures with just us.
We didn't know it at the time, but this will probably be our last picture taken in front of the hat. Disney is taking down the "temporary" feature that's been up since 2001. Luke doesn't know any different; it's been there for his entire lifetime!
I'm curious if it will be gone already when we go back and/or what will go in its place. I hope nothing, but I doubt it.
This article
provides lots of fun details about the hat and an excellent explanation of why Disney put it there and the need for a "trademark-able" icon for the park (which means they will likely be putting up another icon of some sort soon).
We were back at the hotel by 9 and in bed by 10. We had a great first day!
Continue reading:
magical