In case you missed it:
Disney 2014, Day 1 - Arrival and Hollywood Studios
The general plan for the Magic Kingdom was the same: coaster lovers to Space Mountain while husband headed to get FP+ reservations for everyone.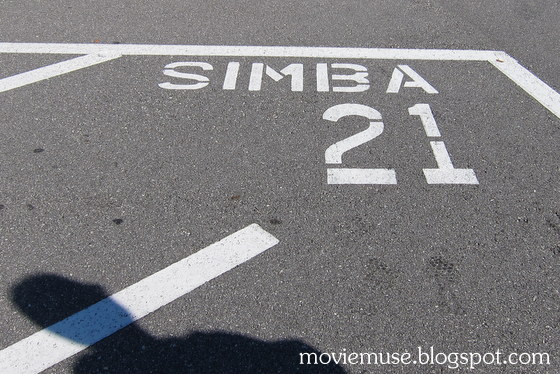 And apparently, we parked in Simba (that would be in the heroes section; they have separate sections and trams for heroes and villains).
Space Mountain had only a 10 min wait when we arrived, which was good, since the cluster of 6 teenage girls behind us could not watch their mouths. After at least the 4th one loud enough for me to hear with both Mom and Luke between me and them, I leaned over and (very nicely) asked them to be more careful. All I said was "Hi, I'm not trying to be rude, but this is Disney World, and there are a lot of little kids around. Could you please be more careful with your language? Thanks." I didn't threaten or anything, just made a reasonable and logical request. As expected, that caused a flurry of clumping and whispering, and I'm sure saying mean and nasty things about me. But guess what? One of the advantages of being nearly 40 is that I don't really care what a rude group of teenagers thinks about me! LOL And the language did stop (or was at least quiet enough that I couldn't hear it), which is all I wanted, so as far as I'm concerned, I won.
Luke wanted to it ride again (it may be his favorite ride), so we said we would check the wait times. It said 25 minutes, but we were given a "red card" (tracking card), so I guessed it was probably more like 30-40 minutes (ended up being 35 min). I got to explain about FastPass+ system to the Italian couple ahead of us in line (how much does that cost? how do I get them? etc).
It was also our first opportunity to play the queue games at Space Mountain. (Again, why did I not take a picture?!) The first one was pretty easy: use left and right arrows to aim your stationary laser and blast the asteroids so the ships can come in and land safely. I scored the highest of the 10 people playing at our station! The second game was much harder (to me). Use the left and right arrows to turn your jet engine to propel your "collector" across the board to grab the trash floating around. I was not good at that one at all! Luke did pretty well, though.
Hey look, a picture, finally!
We had 11-12 FP+ for Buzz, and that one ride ended up being the only one for year. The line was always 45 minutes or longer, most of which is out in the sun. If I had known, I'd have made him ride with my husband so we could have their picture taken together like most previous years, but it's too late now.
Lunch was at the Starlight (since the Pinocchio Village Haus was closed for refurbishment). They were *insanely busy*, and they had cast members roping off sections so people couldn't "cut through" while carrying food. But, there were too many people in line to get by that way either. I basically turned into the "brute squad" and lead the way in front of my husband (carrying the food) using my best Fezzik voice, saying "excuse me, please, pardon, please." We eventually made it through. Part of what complicated things was that much of outside seating was also closed (no idea why), including having the windows covered, which also made it very dark in the back. It used to be bright and sunny back there. I hope that was just a temporary thing.
Pirates of the Caribbean was next (while avoiding the 3PM parade). It had a 45 minute wait, and they redid the queue to support FastPass+, so only the left side is open now, which was very weird. The kid in front of us got scared as we got nearer and the queue got darker. I pulled out our glow bracelets gave him a "power band" to keep it from being too dark for him. His mother was profusely grateful!
We took snack time in the shelter of the closed Splash Mountain (only temporary), then hit up Big Thunder Mountain. Whoa?! The FastPass+ line to get to the first Mickey scanner was backed up almost to the bridge! I thought FP+ was supposed to be faster than waiting in the standby line (and at least the standby line is covered!). I was concerned that we might not actually get to the scanner before our FP+ window expired.
The cast member at the front (where I asked, "is *this* the FastPass line?!") needs to get her story straight and/or use better language to explain. When I asked her about it, she said "oh yes, this line is less than an hour." EXCUSE ME??!!! I sure as heck hope it's less than an hour, given that the standby line is only 45 minutes. The other cast member (near end of line) said it was only 10-15 min to scanner, which technically is less than an hour, but that was a terrible way to phrase it.
But it was all worth it. This smile, right here. That's the reason we come!
After this small fiasco, Luke really wanted to do Sorcerers of Magic Kingdom again. One problem: we didn't bring our cards (we remembered less than an hour from home, but it was too late to turn around and go back). They basically reset him (we couldn't pick back up from where we had been), and off we went. We started in Liberty Square, then Fantasyland, then Adventureland (then Main Street, which wasn't happening with parades and fireworks).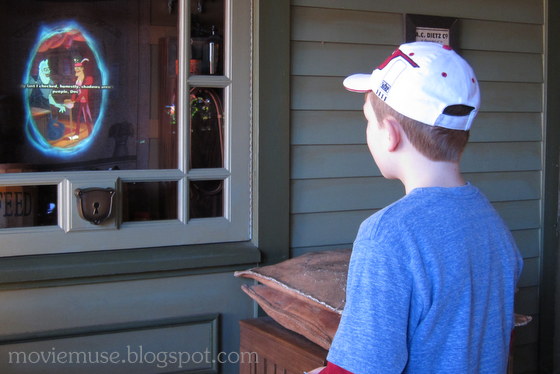 We took a snack break after the Liberty Square part: ice cream and funnel cake, which I haven't gotten in years. I swear, Disney's funnel cakes really are the best! (Again, I can't explain the lack of pictures, except maybe for the flying powdered sugar.)
Before moving on in the game, we did the Haunted Mansion. It only had a 30-ish min wait, but again, they've changed the queue for FP+ and standby must now go through cemetery (you used to have a choice). FastPass+ bypasses that part. So we went through the cemetery for the first time! I was actually kind of fun.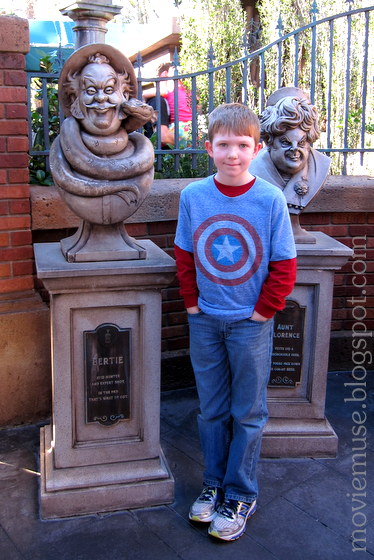 And look who we bumped into on the way in! (Dad spells it Mark, but still.)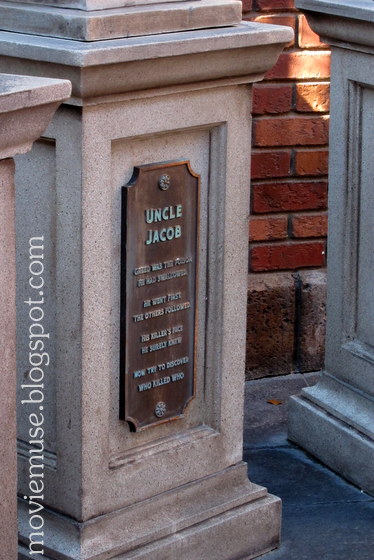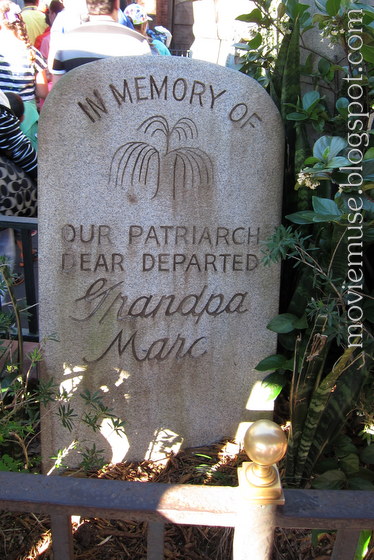 On the way to the Fantasyland portion of Sorcerers, we caught Peter Pan. The cast member at the end of the moving walkway "sprinkled our bar with pixie dust" and snapped her fingers at the precise instant the bar lowered. I think she's been working there a little too long! And then, for the first time ever, the ride stopped while we were on it. (Too much pixie dust? Or not enough?) We were over London, which was very cool but freaky at same time. That is a part of ride design that I had never considered before: can the ride stop at any moment and still be safe? Normally, I wouldn't take a flash picture in a dark ride, but we were stuck for several minutes.
Luke then continued on with Sorcerers of the Magic Kingdom in Fantasyland, but two portals were blocked by a giant crane working on the castle, which meant much longer lines at the 3-4 remaining portals. I guess it is a common afternoon way to keep the kids busy, but it was frustrating. Mom and I waited at Columbia Harbor House for them to meet us, but the dinner line was super long by 6:30. We finally went down to start waiting in line while waiting for them. They arrived just about the time our food was ready.
The boys then went to do Sorcerers in Adventureland. I generally prefer to be trapped on the Tomorrowland side of castle during parades, so Mom and I headed that way, hoping the guys would be able to make it across the hub in time.
It was getting pretty chilly, so Mom was on the hunt for a sweatshirt or hoodie. We ventured back into the Storybook Circus area on our way to Tomorrowland. I hadn't been back there since it was built, I don't think. There are now two Dumbo rides, with one completely dedicated to FastPass+. I'm curious what happens when that one has no FP+ people in line (should that ever happen). Do they shuttle some over from the regular line? I hope so!
I thought she and I might ride the Barnstormer, but it was closed (temporarily down). The Big Top Shop was very nice, though. Mom found an adorable Minnie Mouse hoodie:
And I got a new hat, since my other Mickey hat went missing (in my own house!). I found out later that this is actually the "male" half of a pair of hats, but I like it better than "girl" version (silver icon with a red Minnie bow), so there!
The boys met us in Tomorrowland. Luke decided he wanted to do Space Mountain again, no matter how long the line. I sat outside with my husband while Nana rode with Luke. The sign said it was a 45 minute wait, but after 20-30 minutes had passed, she said that all of the interior and emergency lights came on and they were walking people off the ride. Boo! They did get back outside just in time to catch the end of the fireworks.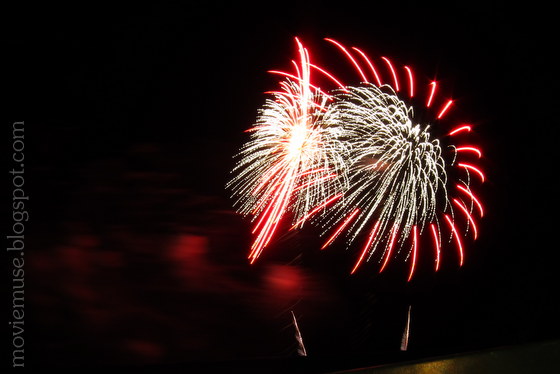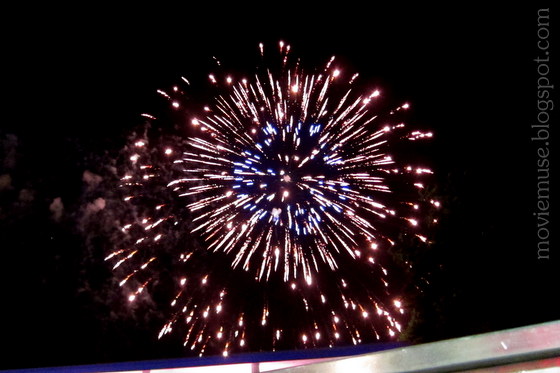 Luke was still quite awake, so we decided to stay much later than usual. However, the Buzz wait time was *still* running well over an hour, so they did the Tomorrowland Speedway, followed by the Astro Orbiter (which I did not care to try again). Mom and I did the PeopleMover and people-watched/walked. Watching the dance party was great fun!
Then it was time for something new. Luke wanted to try Stitch's Great Escape. I had already done it and found it hugely disappointing (Alien Encounter was much better, though I'm not sure I would have taken Luke on that one just yet), but it was something new for him, so we did. We then finished off on the Teacups and left around 10:15.
Normally, our story would end there, but not this time. I so wish I had gotten a picture of Sean, our tram announcer. (Yet another photo I should have taken and didn't.) He was a big blond bear of a guy! We were sitting in last car, the one the tram announcer rides in the back of. Mom and I were very tired and already had a good case of the giggles. Let me tell you, Sean really enjoys his job! He had a whole spiel/routine ready for the ride, and we could Not. Stop. Laughing. The more we laughed, the more tickled Sean got, and the more he poured it on. My husband said "you know you're just throwing gasoline on a flame, right?" I'm still not sure if he was talking to us or Sean! He would have been an exceptional Jungle Cruise captain back in the day (when they were allowed to ad-lib).
First off, he mouthed the entire pre-recorded safety warning, including the Spanish, and I don't mean under his breath. I mean he did it in dramatic pantomime style, like someone on a Broadway stage would do. Our first tram stop was the Aladdin parking lot, where he went through the whole "Al, Din, Laddie" part from the movie. For the next segment of our drive, he told us what to do if we lose something on the journey. "If something falls off the tram, please do not fall off with it. Just raise your hand, I will raise my hand, and we will wave goodbye together to your item that is now lost forever." (He did explain he was kidding and what proper procedure is.)
As we neared our own tram stop, he provided a reminder to take all of your belongings with you. This was not, however, the standard reminder. "Please remember to gather up your personal items, your children, and your spouse. Yes, you must take your spouse. Once upon a time, a spouse got left on the tram. He rode around and around the parking lot until Disney gave him a job. He now runs a parking tram and his name is Sean." Thank you, Sean, for a fantastically fun tram ride! You may well have been the best part of my day (and I told him so as we got off).
Continue reading:
Disney 2014, Days 3-4 - Animal Kingdom and Departure
Currently feeling:
giggly