We were thrilled to be able to celebrate niece N's birthday in North Carolina again this year. I still can't believe she's 3! We drove up Friday after work and stopped about 2/3 of the way there; it's just so hard to drive past midnight. We made it in plenty of time for the party the next morning, though, and we had an excellent visit!
Let's start with a couple of comparisons. Last year: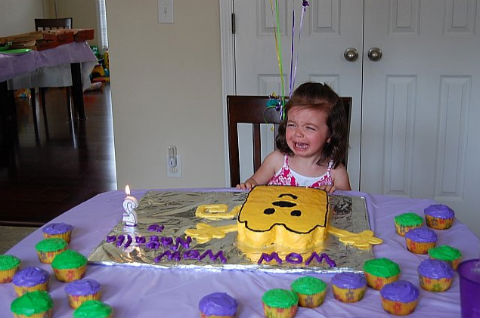 This year:
Yay for *happy* birthdays! How about this one? Last year:
This year:
Dramatic, don't you think? I mean, there's a whole new person (who will be a year old next month!). And M is just as cute and as sweet as she can be.
We talked and laughed and stayed up *way* too late! For the most part, everything went really well, though Luke may stop asking when he will be a brother for a while. (He's never asked for a sibling, he just wants to know when he gets to be a brother. Hmm, slight disconnect there!) N stuck to him like white on rice while we were there, to the point of frustration on his part a couple of times, but they played well together for the most part.
Sorry for the super-short recap; I'm just exhausted from the stress of last week, the late nights (totally worth it!), and the long drive (also worth it). I'll leave you with my favorite photo from the trip: Luke reading a book to everyone before bedtime.
Currently feeling:
exhausted but happy!