Our first day in the parks was spent at Epcot. Apparently, the Flower and Garden Festival, once confined to just a couple of weeks, has now taken over virtually all of spring, March 2 - May 15 this year. I was so paranoid about them being insanely busy this weekend that I insisted we go to Epcot on Thursday. Technically, the festival had started on Wednesday, but I hoped that being there before the first weekend would help. Overall, the day actually went quite well. We even remembered to call and confirm the room switch before we left for the park, and instead of trusting bell services not to lose anything, we just moved all of our stuff into Mom's room instead. And off we went!
Even arriving not long after 9, the line for Soarin' was already about 40 minutes long, and FastPasses were being distributed for around 11. There was plenty else to do, so we grabbed some passes and pursued some new things (well, new to Luke) around the park. The Living With the Land boat ride was not busy at all. Starting in the 10-11 time frame, it gets crazy busy. It does have FastPass, but I didn't want to "waste" one on it, so we went on and did it since we were there. I figured Luke would like it, and he did. The gardens fascinated him! Many of the foods grown there are served at the restaurants around Epcot. (Those are pumpkins in the last picture.) I do miss the original "Listen to the Land" song, though.
Next stop was a venue Luke had never even visited: The Imagination Pavilion. We started with a true blast from the past.
Captain EO, starring Michael Jackson, directed by Frances Ford Coppola, produced and written by George Lucas, music by James Horner, and special effects by ILM and Jim Henson's Creature Shop. Not a great film, to be sure, but it was super-cool when it opened! 3D was much rarer then, and Michael Jackson was a huge star. Space ships, robots, a cute little flying animal. What's not to love? Luke seemed to enjoy it, though he didn't love it like I thought he might. I guess he's too sophisticated! LOL
According to the pre-show, Captain EO premiered at Disney in 1986. As we left the theater, Mom looked at me and said, "so you were 10 when this came out?" Yes, I was 10, and I'm pretty sure we saw it the year it premiered, because we have photos (somewhere!) of my brother and me in front of some "15th Anniversary of Walt Disney World" things at Epcot (yes, WDW is 40 this year!). "Wow, that means Jacob was 6." I stopped dead in my tracks, apparently with a funny look on my face. "What?" Yes, I said, Jacob was SIX, and I pointed at Luke. You know, Luke, who is also (currently) age 6! I think we were both ready to faint at that point. I'm also quite positive there are photos of Jacob and me on that very same trip doing exactly *this*:
(He is chasing the "jumping" water streams, in case it is hard to tell. Not the best photos, sorry.)
We went ahead and did the Imagination ride while we were over there. Luke *loved* Figment! (Gee, must run in the family, right Jacob?) I just wish he had gotten to see the original; I know he would have loved that even more. By this time, our Soarin' FastPasses were ready, so we headed back towards The Land. We had late lunch reservations (well, 12:10, which is late for the child who eats lunch at 10:30 AM at school!), so a snack was in order. Goldfish, half of
my
a banana (which I cannot get him to eat at home for anything!), and milk for Luke. Half of a blueberry muffin and grapes for Mom (can't remember if she had water or soda). A blueberry muffin and a coke for DH. The other half of the banana and blueberry muffin, and some milk for me. We also finally managed to get a photo of Luke with his new toy: a clip on watch, courtesy of Papa. (You may recall
the incident with the SecurID token that lead to needing one
.) Luke absolutely loved it, so much so that he ticked off each minute as we waited somewhere. "It's 9:17. Now it's 9:18. Now it's 9:19...." Annoying, but adorable.
Soarin' was great, as usual. We had nearly the exact same seats this time as last time, bottom left set of seats. I had hoped to be a little higher up this time, but oh well. We had a little time to kill afterward, so we checked the tip board just outside The Land. Current FastPass distribution time for Test Track was 2PM. That'll work! So DH ran over to get Test Track FastPasses while the rest of us wandered slowly towards the restaurant. I hadn't been to the former Living Seas attraction since Nemo and friends took over, so we took some photos while we waited.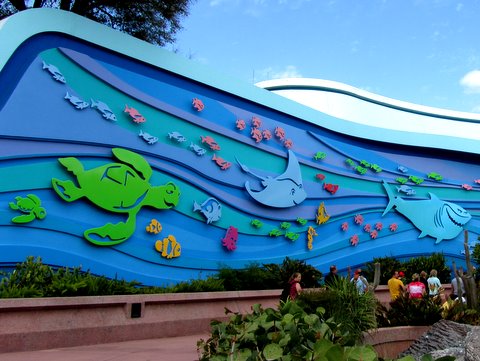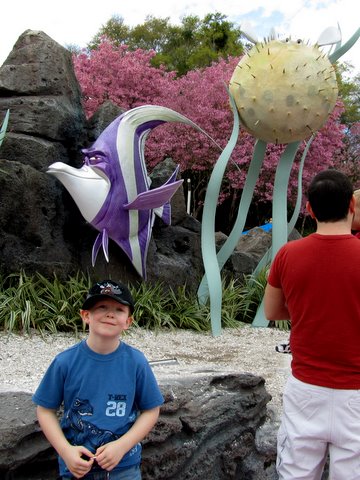 We headed in for our reservation just before Noon. They were not busy (yet), so seating us a touch early was fine. I was hoping we would be closer to the glass, but we were seated in the uppermost level instead. Luke still thought it was pretty fun, especially the sharks. Now, why a seafood restaurant wouldn't have fried shrimp at least on the kids menu is beyond me, so Luke had pizza. DH got the Rainbow Seared Trout with warm white bean salad which was quite good, Mom had the shrimp and lobster ravioli that was excellent, and I actually had the "Appetizer for Two" as my meal: crab cakes, grilled shrimp, BBQ beef tenderloin skewer, and their famous lobster bisque soup. No matter how the menu changes, the Lobster Bisque is always on there, and it is always yummy. And boy, is it rich! I don't know how anyone could eat a whole bowl of it. The appetizer plate had two espresso cups of it, and I could only eat one (Mom generously volunteered to consume the other). Other than *freezing* while we were eating, it was a very enjoyable meal.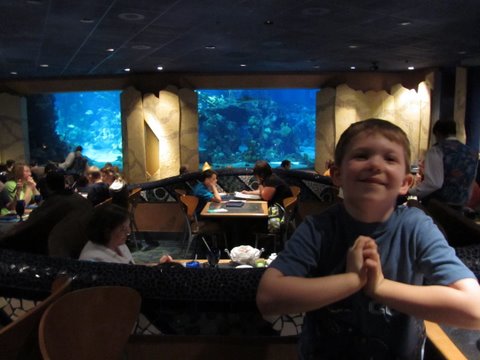 We spent a little time warming up (you can see Luke wearing his jacket in the above photo; that's leftover from eating at the restaurant!), then we headed into The Seas With Nemo and Friends. The queue design is exactly the same, though they took out all of the awesome 20,000 Leagues Under the Sea props and memorabilia they used to have in there. We then boarded our clam for the little ride. I really thought it would mostly be riding through the aquarium like it used to be, but there was very little of the actual aquarium involved. What they had of Nemo and friends was pretty cool, but I really miss getting to see so much of the aquarium from the inside. Very low light, though, so no way to take decent non-flash photos. Once inside the building (formerly Sea Base Alpha), we looked around.
We watched the manatees for a bit and saw the dolphins playing/fighting, but overall, Luke wasn't very impressed. When I visited The Living Seas as a kid, it was the largest aquarium in the world. I believe it now ranks 3rd. Number 1? The Georgia Aquarium right here in Atlanta, which Luke has been to a few times. Guess he's a little jaded! LOL After playing briefly in the sunken sub area with Bruce (shark photo above), our Test Track FastPasses were ready, so we zipped across the center plaza and hopped on. After that, we departed Future World for The World Showcase.
I believe Luke had only been over to The World Showcase once before, and even then only on the left side (Mexico, China, Norway). This time, we veered right, heading for France. We had intentionally passed on dessert at the Coral Reef, knowing that the pastry shop in France was waiting for us! Mom got the chocolate eclair, I had the apple tart, and Luke and DH split a chocolate chip cookie that was about 3/4 of an inch thick (nearly 2cm) and about the size of a CD. It was huge!!
Our journey's ultimate destination was The American Adventure. I had timed it very intentionally so that we would be able to see both the Fife and Drum group and Voices of Liberty, an a cappella group of 5 men and 4 women performing golden oldie Americana songs. The acoustics in the rotunda are amazing, and anyone hearing a recording of them would have thought there were easily twice that many people singing. We even recognized one of the men as a former Dapper Dan. For some reason, I didn't take a single photo or moment of video during their performance. (I told you, I had camnesia!) I hoped Luke would be old enough to enjoy the actual show, or at least some of it, especially once we explained that everyone he saw on the stage was a robot! He liked it okay, but he wasn't really into it. I do think having to sit and rest for about 40 minutes straight, plus the 15-ish minutes he sat in the rotunda, were good for him. Maybe in a few more years when he's been exposed to more US history, it will mean more.
And that pretty much completed the planned portion of our day. We had done everything on the must do list (Soarin', Test Track, Captain EO, French pastry shop, American Adventure), we had done lots of "new to Luke" stuff (EO, Imagination, Listen to the Land, The Seas). Now what? We had no dinner reservations, and since it was nearly 5PM, we started considering our options. After reviewing the online menus (thank you
allears.net
!), we settled on a place I had never been: The Rose and Crown over in England.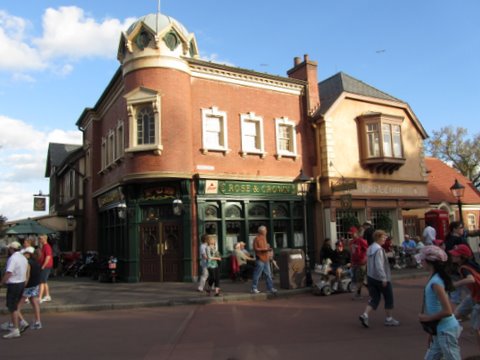 I had heard nothing but good things about this restaurant, but I had never gotten around to trying it. We were quoted a 35-45 minute wait, but the pager worked anywhere in the England pavilion, so we shopped a bit. Luke *really* wanted one of the real swords they had on display, but he settled for a new foam sword and a ruby red dragon. We told him we would buy them if he could behave while we ate, which he did. Our pager went off after only 25 minutes.
We were seated right by the outside door and by the divider between the restaurant and the attached pub. Not the quietest table in the world, but the food was pretty good, and there is blessedly no smoking inside any Disney building (not even the pub!). Mom and I split a cup of the Potato and Leek Soup. It was out of this world! So so yummy. With one exception, the meals didn't quite measure up. Mom got the Shepherd's Pie (made authentically with lamb instead of ground beef like you usually find here in the states), and I had the pot roast with (awesome!) mashed potatoes and my first Yorkshire pudding. Don't get me wrong, they were very good, just not quite excellent. (We had picked up chicken nuggets at the American pavilion and brought them with us, since the kids menu didn't have much for Luke on it.) DH's meal, however, was the clear winner: fish and chips. I know, what did I expect? But it was *truly* one of the best things I have ever eaten. Yum yum yum!! You don't even have to eat at The Rose and Crown to get it. They have a stand right outside serving the very same fish and chips. I can assure you we will be doing it that way next time we find ourselves on that side of the "world" at mealtime.
Did anyone notice what was missing from this trip so far (other than decent photos)? A nap! We didn't take a nap while we were there, on this day or any day. The schedule was just too packed, and we really thought he (and we) could handle it this year. We did, however, intend to make it an early night both Thursday and Friday in anticipation of crashing without a nap. After dinner, we were all fading. I had hoped to finally get Luke on The Maelstrom over in Norway since they had to bail during the previous attempt to ride, but it was not to be. Mom and I did a little shopping on the way out, where we each bought one of these (hers is larger and has a lighthouse instead of a sun and moon). It *was* the Flower and Garden Festival after all!
We also stopped for a quick group shot on the way across the bridge. I was going to use a conveniently placed trash can as a tripod, but a very nice gentleman stopped as I was setting it up and asked if I'd like him to take it for us. (Luke is holding his red dragon.)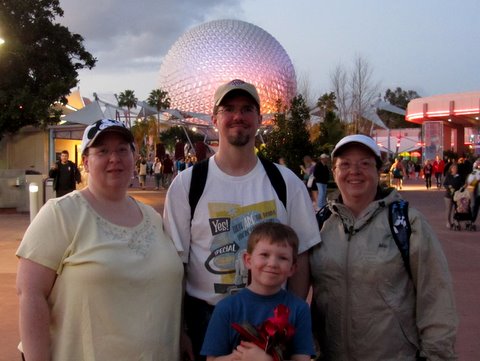 However, as we were exiting through Future World, Luke really wanted to ride Test Track again. I really wanted to ride Soarin' again, actually, but I knew there were no FastPasses remaining for it. We checked the tip board, and they were Test Track FastPasses available for about an hour from then. The wait time for Soarin'? Conveniently about an hour. We grabbed the FastPasses and, for the first time ever, waited in line for Soarin'. I had heard about the new interactive games for those waiting in line, but I wasn't overly impressed. Most were very difficult to do. The racing one in particular was terrible, and it didn't help that the camera angles nearly made me ill. I will say that personally, an hour is too long to wait for Soarin'; 45 minutes would be about my max. When we finally boarded, though, we were right in the middle. It was great! I was afraid it would bother me since I didn't have a fixed edge I could see, but actually, being in the middle had less "motion" in my field of vision than the sides did. I was able to watch a whole lot more of the film from the center than I've ever been able to before. After that, we zipped across with our Test Track FastPasses and did a first for all of us: rode Test Track at night! We even snapped some photos of Spaceship Earth (which we never rode this year) as we exited. Mom had taken a pretty good one earlier in the day, so I'm posting it here as a "day and night" comparison.
Okay, so we didn't really manage that "turn in early" thing very well, since they started shooting off Illuminations fireworks as we exited the parking lot, but overall, a very good day. Thankfully, we remembered right at the last minute that we still had to stop by the hotel lobby to pick up our new room keys. We also had to transfer all of our stuff back to our new room. Our room was about 10 doors down from Mom, same building, same floor. Overall, not too bad considering the check in debacle. If we'd remembered we had to do all of that, we may have made it a point to leave earlier than we did, but it still went okay, and everyone slept very soundly!
Currently feeling:
zoom zoom