I decided before we left on this trip that we would be sleeping as late as Luke would allow. It *is* a vacation, after all, and an integral part of my personal definition of a vacation is that I don't have to set an alarm. Even after such a late night, Luke usually still gets up at more or less normal time (7AM +/- 30 minutes) but he's really grumpy. Instead, he slept until nearly 8! Consequently, we were a little later than I had anticipated for our arrival to the Disney Hollywood Studios, which necessitated a slight change in plan.
Thinking we would arrive right as they opened, I had intended go directly to Toy Story Midway Mania and get in line, then pick up FastPasses for later in the day. Upon our arrival at 10, however, we knew the line was likely too long already, and if we had any chance of getting FastPasses at all, we needed to do it right then. Mom, Luke, and I headed down Sunset Boulevard while DH took our tickets and ran to Toy Story. If the wait time was reasonable, he would get FastPasses while we walked over there. If not, we would continue down Sunset to another attraction. The verdict? 80 minute wait. Um, no. The park had barely been open an hour and they were already giving away FastPasses for 4:35 to 5:35! DH grabbed them, and we kept walking.
The moment I had been waiting over 7 years for had finally arrived! When you first learn that you are expecting your first child, you can't help but start planning: what do we need, what will the baby need, what sorts of things will I do with my child as s/he grows? My dream was a little risky: roller coasters. I love them, Mom loves them, Jacob loves them; Dad and DH, not so much. But that's still 60/40 in favor of Luke loving them, right? When he loved The Barnstormer at age 2.5, I was so happy. When he adored Big Thunder even more, I was thrilled. When he declared Expedition Everest his favorite roller coaster, I was ecstatic. All I could think was "you just wait." Every year since he was born that I have ridden The Rockin' Roller Coaster without him, all I could think for the duration of the ride is "I can't *wait* to take Luke on this when he's tall enough!" In October of 2010, at the tender age of 6, Luke officially measured 48.5 inches. March could not come soon enough! But we had to be sure. He walked up to the measuring stand right beside the stand-by entrance and backed up to the stick.
The picture above was taken later at the measuring stand inside near the load area, but as you can see, he clearly passed. The cast member at the entrance was very excited for him. "You're good to go," she said with a huge smile on her face and gave him a high five. If I'd known what was coming next, I would have had my camera ready. "Yessssss! Woooooo!!" He whooped and hollered. I can't even describe his actions other than to say that Mom and I were laughing ourselves silly. He was *so* excited! Here is one of the poses he used outside. (I did not coach him to do that at all! Totally his idea.)
The queue was at 40 minutes, but it's not too bad, especially when you get to play with the "marble doors." Anyone who has waited in the queue is familiar with these. They make a unique and unmistakable sound when you rub your hands over the marbles (they're loose inside the grid):
After the silly little movie, you move to the short internal queue area, where you get your first glimpse of the ride vehicles quite literally launching into the building. Luke watched the first car go, then turned around to me with a huge grin on his face. "Mommy, the car disappeared!" Well, yeah, that's pretty much what happened. You may remember me telling the story of Mom's reaction to her first ride; it was quite similar. (See
here, 5th paragraph
.) There was a girl in her teens a few folks in front of us who looked scared out of her mind. Based on the gesturing, I think they were using Luke as an example of "well if that little kid can do it, so can you!" LOL Finally, it was our turn!
Ready? (Sorry for the blur.)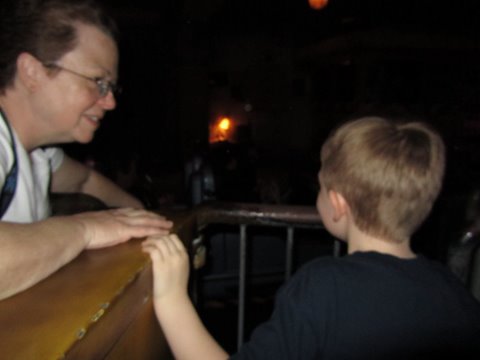 Set:
GO!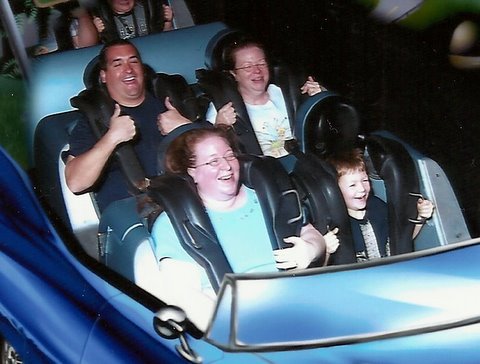 The music/soundtrack for the ride is deafening, intentionally so I'm sure. The restraining mechanism that comes down over your head and shoulders has speakers right at ear level, blasting away; the music "follows" the car and is not piped into the ride building. I could neither see nor hear Luke; I had no idea if he was laughing, crying, screaming, or what. When it was over and we pulled to a stop (we had to wait for the car ahead to clear), I looked over and saw this:
Hmm... maybe he's a little stunned? It is definitely a bit intense, especially if you've never ridden it before. We finally pulled up and got off, but Luke was not happy or excited at all. "Did you like it?" I had expected him to either be jumping up and down or crying; instead he was almost devoid of emotion and merely nodded gently. "Are you sure you liked it? It's okay to say no." It was okay, he said, but it was too short. Um, okay. I admit, it's not the longest roller coaster in the world. It's inside a building, for goodness sake, but that was not at all the reaction I expected. Like it, don't like it, too dark, too scary, have some sort of reaction! But to be blah and indifferent is just strange, and I was terribly disappointed. It took me a while to order our photos, then we left for lunch, stopping for a quick (though unconventional) picture out front. Sorry, the geeky side of me loves this! (Not that Luke has any clue what a record is....)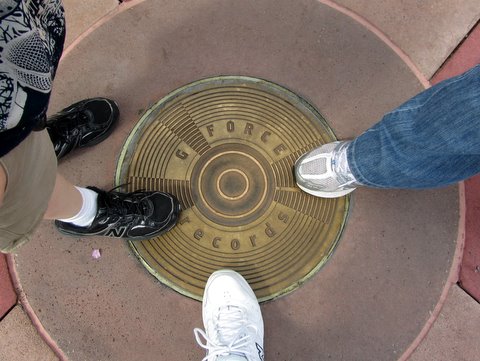 We had no dining reservations for Friday at all. All the places I looked at had none left at reasonable times. Lunch at 3:30? No thanks. Plus, there were people everywhere! What is going on? Apparently it was ESPN The Weekend. Ya know, there is an *entire* ESPN sports complex at Disney. Shouldn't activities be centered *there* instead of at the Hollywood themed park? I texted DH that we were on our way, and that I intended to check the wait at the Sci-Fi Dine-In Theater. I received a quick return text. "Masses gathering outside Sci-Fi Diner." Okay, scratch the Sci-Fi for lunch. Back to the old standby: The Backlot Express. Seems like everyone got either hot dogs or chicken nuggets. Luke had asked to eat outside, and I had originally said no, but it turned out to be hotter inside than out, so we moved out onto the covered patio, right next to the Indiana Jones Stunt Spectacular. Lunch was punctuated with gunfire and explosions from the other side of the fence, and the most daring squirrel I have ever seen. It was clearly trying to raid our lunch table, to the point that I thought it was going to climb right up my leg! All it needed was a fedora and a whip to fit right in.
Luke seemed much perkier after he ate, and it occurred to me that he had not had a snack all morning. You'd think we'd have learned this lesson by now! Maybe that's why he didn't really like the roller coaster? He had burned too many calories jumping up and down in line, which combined with coming off an adrenaline high, and he just crashed? I was terribly upset that I may have ruined the whole thing by forgetting a snack. I really didn't think we'd have a chance to ride it again, especially with all those people there, so we'd just have to wait until next year to find out.
Indiana Jones finished just about the time we were done with lunch. People just kept pouring out of the venue! The Backlot isn't far from Star Tours, and I figured the speeder bike line would be long, but I wanted to go ahead and do it while we were there and thinking about it. I knew Star Tours itself was closed since they are revamping the ride with a new film and likely upgrading the ride mechanism while they're at it. It wouldn't have been a surprise to me if they had the building covered or behind a wall. I was pleased to see that they just had the doors closed and roped off. However, what *was* walled off was the grassy area just across the walkway, where the speeder bike lives.
Noooooooo!
We walked all the way around that end of the grassy area, thinking they might have moved it further around, but it was no where to be found. In fact, you could still see the corner of the storm trooper backdrop just sticking up over the top of the fence. I was crushed! I was so upset and distracted, in fact, that I didn't even remember the (still open!) Star Wars store connected to Star Tours. I never even set foot in there this trip! DH informed me later that he had been in there while we were riding the RRC and hadn't seen much new, but still, not the point. First the Rockin' Roller Coaster is a bust, there are way more people at the park than there should be, and now we don't get our 5th annual speeder bike photo. Maybe we should leave now before anything else goes wrong? That seemed a little rash since it was only about Noon, and we still had two major things to do: the motor stunt show and our Toy Story FastPasses. Guess we'll stay.
We still had 90-ish minutes before the 1:30 stunt show, so we proceeded over to the ride that encompasses everything this park is about: The Great Movie Ride. Luke had never been on it. It's a little long, and I was most concerned about the scene from Alien, but I figured if we told him about it beforehand, he would probably be okay this year. We all found the costumes on display in the queue interesting, but the line moved quickly enough that we only had time to walk past them. We did have to wait a bit in the room where they show movie trailers, and when the one for Raiders of The Lost Ark came on, Luke was mesmerized to the point of holding up the line. He's never seen the movie, but he absolutely knows who Indiana Jones is. I was a little concerned about the trailer, knowing it at least had the potential to be too much for Luke, but I also generally trust Disney in this regard, and the trailer was fine. He thought the ride was pretty interesting, though he probably didn't even know a quarter of the movies on display. Due to the timing, we actually missed the animatronic alien all together, which was fine with me. The Great Movie Ride had occupied about 30 minutes, and it was time to head on over to the Lights Motor Action stunt show. With all the people around, I didn't want to risk getting crummy seats like we did last year. Luke had a blast, as always, and I didn't take a single photo.
After the stunt show, we weren't really sure what to do. We still had plenty of time before our FastPasses were ready, and right across the street was another thing that none of us had ever done before: the Honey I Shrunk The Kids Playground, which is exactly what you would expect it to be. I figured Luke was now old enough to take care of himself around the other kids, to follow our instructions, and to generally be trusted to go in and come out of the climbing things by himself, with us waiting for him at the bottom/exit, of course. It was a zoo inside there with kids and parents *everywhere*, but Luke was having a blast!
My mom doesn't care much for this type of berserk environment, so she stepped outside and waited for us at the (closed) cafe that is right next door. Things had been going pretty well, so I left Luke and DH inside while I went and found a restroom. We had agreed that when I got back, I would text DH, and it would be time to leave the playground. I held up my end of the deal, only to receive the following text in reply: "Your son is lost." Not cool! The last thing I had said to DH when I left was for him to keep an eye on this guy inside who was setting of my mommy alarm bells. I can't really say what in particular rankled me about the guy, but I did not want him *anywhere* near my son. I pointed him out, and DH said he would watch him. All I could think as I walked back in was "where is my son, and where is that guy!"
I stood guard outside in case Luke came out. DH went inside and started hunting. Apparently Luke was not the only child missing, as there were cast members walking around inside calling a list of names of various children. The fact that it wasn't just my son who had been gone long enough to cause concern actually made me feel better. Finally, Luke stuck his head out and was rather confused to see a very angry me standing at the bottom of the steps. "Come. Down. Now!" It seemed to take 15-20 minutes, but text message time stamps say 6 minutes from when DH texted me to when I texted Mom & DH saying I had him. It was a *very* long 6 minutes. The only answer Luke gave to "where were you" was that he was with some other kids in the secret place. I probably should have gone back in with him and made him show the cast members where this "secret place" was, but I was so upset about the whole thing I was not about to let him out of my sight again. We met Mom back at the cafe and had a snack to give everyone time to cool off (literally and figuratively).
We were about an hour from our Toy Story Midway Mania FastPass return time, so we thought we'd pop over and see what the wait time was. Anything in the 60 minute range would have been acceptable. Yeah, try 100 minutes!! Next.
We had walked past the Studio Backlot Tour on the way to Pixar Place. They were showing Pirates of the Caribbean props near the entrance. We hadn't done the tour in years, and Luke had never done it. I figured most of it would be rather boring to him, but I knew he would enjoy one particular section. It said it had a 10 minute wait, but we missed making that tour by about 6 people, so it ended up being more like a 25 minute wait. Ugh! This was supposed to be quick and simple; totally not worth that kind of time. But the grin on Luke's face at Catastrophe Canyon was well worth it. Earthquake, fire, explosion, flood; what's not to love?
I hoped to get some good shots of him with the two Star Wars vehicles as we drove by "the bone yard", but those shots didn't turn out well. This one did, though. I took it just for my brother. Can anyone name the movie this vehicle is from?
The tour lets you off at the American Film Institute exhibit, which rotates in costumes, props, memorabilia, and the like from various films, usually with some sort of Disney connection. They had some from Narnia and Pirates 2 & 3, and you might recognize these (from two different films).
And finally, it was time! Toy Story Midway Mania, here we come! It was just as much fun this year as last. I was even ahead for most of the ride. I nearly doubled DH's score on one of the first screens, but he kept gaining on me, and by the next to the last game, he'd passed me. Just couldn't let me win for once! LOL I really thought my arm was going to fall off when it was over, and it ached for the rest of the day. Really need to figure out a training regimen to start in January so I'll be ready next time.
Once again, it was dinner time, we had accomplished all of our major goals for the park, and we had no dining reservations. Where should we try? It was 5PM on the dot. Perhaps give Sci-Fi Dine-In another shot? The few benches inside were full, but there was virtually no one waiting outside. "How long is the wait for 4?" About 15 minutes. That'll work! For those not familiar, the Sci-Fi Dine-In Theater looks like, well, a drive in theater from the 50's. It is dim inside as if it were dusk, you eat in "cars," and you watch trailers for old B-list sci-fi films, including the always amusing concession ads. The food isn't amazing or anything, but you're really paying for the atmosphere.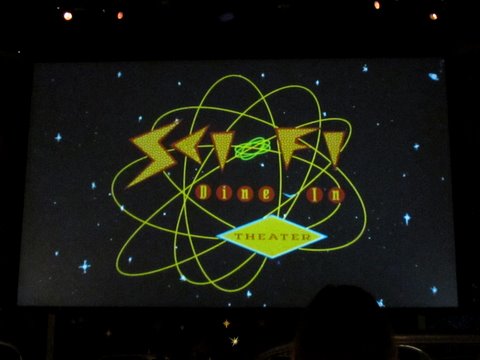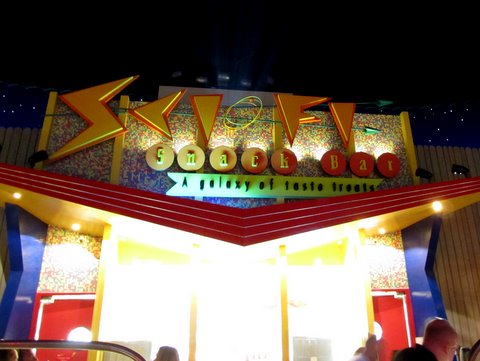 Let's see if I can remember now. Luke had pizza, Mom had the shrimp pasta, DH had the Italian grilled chicken sandwich, and I had the Beef and Blue Salad (sliced butcher steak with iceberg wedge and blue cheese dressing). Mine was actually very good! Luke didn't like the pizza at all (no, not all Disney restaurant pizza is the same; yes, I tried it to make sure), and I think Mom and DH just thought theirs was okay.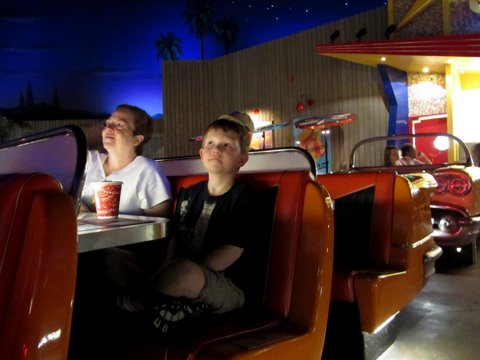 Our waiter was also serving a much larger party, so it took a while for us to get our check (the food was reasonably prompt, but not the check). We'd already sat through at least two loops of the clips, and Luke was getting restless. It was after 6PM, and the park closed at 7. I hated that everyone was sitting there waiting, so I sent DH and Luke off to wait in the line for Toy Story again. It should be around an hour wait by now, and as long as you are *in* line by park close, you get to ride. DH told me to go get in line at the Rockin' Roller Coaster once I'd paid so that Mom and I could ride again before we left. I debated that. After they left, it actually occurred to me that I hadn't been to the Star Wars store, so I figured we would just do that until they texted that they were finished with Toy Story. So imagine my surprise when I get a text that reads "He wants roller coaster." Seriously? After all that disinterest, after complaining repeatedly that it was "too short," after me being upset *all* day about him not enjoying it, now he wants to ride it again? Okay, twist my arm. I just hoped the line wasn't too long. I had no interest in waiting 2 hours just to ride it one more time. No, it was only 40 minutes, just as it had been that morning. Totally doable!
And then a miracle occurred. It was a moment I thought I would never see in my lifetime. If you had told me even 5 minutes before it happened that it was coming, I would never have believed you. In fact, it's still hard to believe even now that it happened. Yet I have photographic proof!
That, ladies and gentlemen, is my husband standing in the queue for the Rockin' Roller Coaster. But wait, you say. You can still bail out before you board the ride vehicle. Maybe he just didn't want to wait outside by himself while the other three of us rode?
Kind of hard to bail out once you strap in and take off! I still can't believe he did it. A very small part of me can't help but think that maybe he bribed Luke into riding it again by saying that he would ride it with him, just to make me happy since I'd been so upset by Luke seeming to not enjoy it earlier, but DH swears that isn't the case. I mean, I know he loves me, but I never thought he would ride a "real" roller coaster for me (no, The Barnstormer and Big Thunder don't count!). Perhaps he was shamed by the fact that his 6-year-old actually rode it? If I am recalling our previous discussions correctly, it is really the steep drops that he doesn't like. Can't do a whole lot of long drops while inside a building! From a hills perspective, RRC isn't nearly as bad as Everest, plus RRC is dark, so you can't really
freak out
anticipate where you are going. RRC is actually the "lesser of evils" in terms of big coasters for him. Who knows. The point is that he rode it. May never do it again, but he did once, and I have the proof. I've known him for nearly 17 years, and he still manages to surprise me on occasion!
It was well after 7PM by the time we got off the ride. The park was nearly deserted. That gave us the ability to take this awesome group shot with *just* us in it!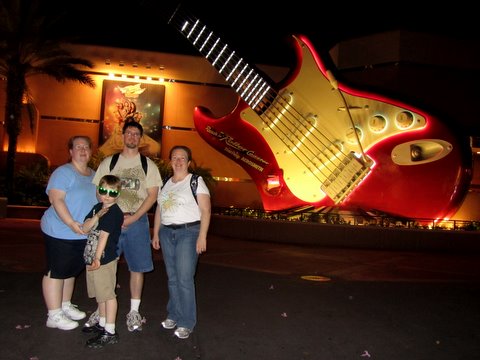 Don't ask me what Luke is doing. I can't explain it. Those glasses are the one thing he wanted from the Rockin' Roller Coaster gift shop as we left. Other than hiding at the playground, he'd really been quite good all day, and they weren't that expensive, so we indulged him. He absolutely loves them!
And with that, we called it a night.
Currently feeling:
my husband did what?!?!