Sorry for the radio silence (other than Wordless Wednesday pictures). Just not much to say right now. Unless you want to hear about our dead microwave? Yeah, didn't think so (especially since we've already replaced it). School is.... going. Already tired of homework. ::sigh:: Still trying to settle in to a weekly routine, which isn't helped by the fact that we're trying to fit in some new activities, some of which haven't officially started yet, so "the routine" is still evolving. We should have at least two new activities in the next week or two, so that might generate some blog-worthy material.
In the meantime, I thought you might want to see some (other) pretty pictures. For those who do not follow
my Project 365 blog
, you used to see the mosaics of each month when I posted my monthly round ups. You know, the ones I haven't done since January, and now that August is nearly over, I'm not sure I'm going to even attempt to go back and make them up. We'll see. I've missed a few days, particularly at the end of May, but I've still taken enough photos to cover each day with something different. Generating the mosaics is fairly quick, so I whipped those up
to give me something to blog about
for you to see. I've only fiddled and twiddled with pictures through July (I am so behind on so many things!), and not even all of the individual photos for July are on the 365 blog yet, so you're getting a bit of a sneak peak at those. Each of these is clickable if you want to see a larger version. Hope you enjoy!
January:
February:
March:
April: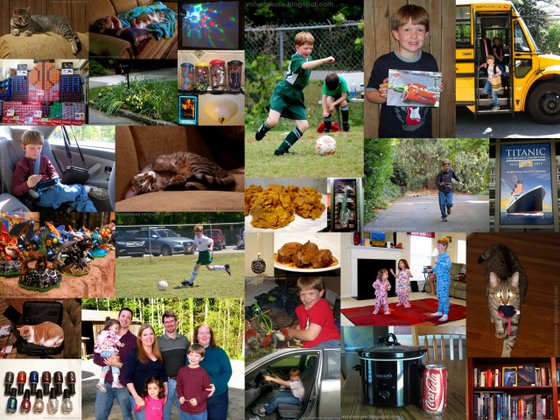 May:
June:
July:
Currently feeling:
well photographed