Monthly Round Up idea borrowed from
Katie the Scrapbook Lady
.
Sorry, I know it is later than usual. Just been busy.

Credit: Pinky Blinkies
What books and/or magazines did I read this month?
New issue of Atlanta Parent, Kraft Magazine, and a zillion catalogs. Read another chapter or two of Love and Logic Magic for Early Childhood (need to update the progress bars on my sidebar). Also started trying to read Kushiel's Dart, but I didn't get very far. Thought I would get more read at the airport and on the plane, and maybe over Thanksgiving, but it just never happened, and now I don't have time with Christmas in three weeks and the new job starting in less than two weeks.
What movies and/or tv shows did I watch this month?
Was there anything new this month? I don't think so. Just way too busy getting over illnesses, helping with Dad's surgery, and Thanksgiving. Oh wait, I did see one episode of Dancing With the Stars, which my parents adore. I've always liked ballroom dancing, but DH never showed any interest, so I didn't pursue it when it came on. But the one episode (the semi-final) we watched at my parents he really seemed to quite like, so we may give it a try when the next season.
What special days did I celebrate and how?
Thanksgiving! Which was also a celebration of my grandmother's life; it would have been her 85th birthday. We had a great day, we shuttled my grandfather back and forth to Waycross (roughly 90 minutes away; we usually go there, but my father was not up to that much time in the car after his shoulder surgery), and we visited my grandmother's grave to replace the silk flowers. Luke spent the time at the cemetary blowing bubbles. Mom was concerned that other people might have been offended if they saw that, but Granny would have loved it, and that's all that mattered to me.
What gifts did I give and/or receive?
Passed out some of "the shirt" pictures to my parents. The rest of the family will get them for Christmas. Prepared several baby gifts, but haven't managed to get them mailed off yet (Jenni, I hope it gets there before baby does!).
What illnesses or health concerns did I have?
DH was sick, which didn't help him take care of Luke alone for several days as I went home to help Mom with the house while she cared for Dad after his shoulder surgery. Luke arrived in Brunswick for Thanksgiving with his ear dripping and a fever of 102, not four weeks after being treated for an ear infection that started from a sinus infection. We had to find a doctor in Brunswick, where no one has our insurance, the day before Thanksgiving. Fun. So more antibiotics, about the strongest they could prescribe, which have now caused some side effects that we are still dealing with. All because they wouldn't treat the sinus infection when I took him in the first time with "just a fever and a cough," despite me telling them that I knew it was a sinus infection. Yeah, I'm a bit ticked about it all.
What fun things did I do with my friends and/or family?
*Finally* took Luke to the aquarium. Seems like everyone in the US had been but us. Luke seemed to enjoy it (really liked the penguins), but he lost interest after about 30 minutes (he was tired and hungry), so I didn't get to see a whole lot of the "right side" of the place. I really thought he would be more interested than he was, so I was a little disappointed. Here are some pictures:
What new foods, recipes or restaurants did I try this month?
I made it a point to try some new things at Thanksgiving. I tried oven roasted asparagus, squash casserole, green bean casserole, and sweet potato casserole (with pecans, not marshmallows). I'm sure I had had squash casserole and green bean casserole in the past, but it was so long ago that I felt the need to give them a try again. Don't feel the need to do so in the future, though. Green bean casserole was okay, didn't care for the squash. I liked the sweet potato casserole when the topping was intact, but when we mixed it in to store it (at my suggestion), I didn't like it nearly as well. Makes me wonder if I would prefer it simply as sweet potato pie with pecans on top? And the asparagus was okay.
What special or unusual purchases did I make?
Rotors, since my brakes got stuck in the "on" position for a few days and totally wore them out. Also twin sized bed linens for Luke's new bed, and the arrival of the mattresses. We do not have them on a bed frame yet; just the mattress and box springs sitting on the floor until he stops falling out of bed. The Finding Nemo pillow case and small quilt were from the toddler bedding set that my parents got for him. We never actually used a toddler bed like I thought we would, but we did use the fitted sheet from the set when he was still in the crib, and now the pillow case and quilt are being used, so I don't feel so bad. But, for Christmas, we got him a Star Wars Galactic Heroes bedding set that I think he is going to love!
Here is the bed, as it stands now, his first look at the bed, and some pictures from his first couple of nights sleeping in it. Don't quite have the hang of sleeping "properly" in the bed (in fact, he is usually fully transverse when we check on him), but that's okay.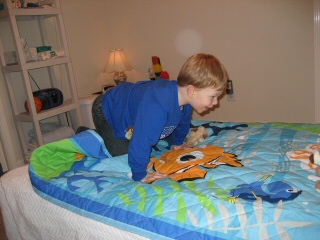 What were this month's disappointments?
That second ear infection really has me annoyed, and I was so disappointed that Luke didn't like the aquarium more than he did. Also having to leave Brunswick a day earlier than planned after Thanksgiving was disappointing, but it was the right thing to do. Luke was in total and complete meltdown mode after having nothing be "normal" for well over a week, and it was simply time to go home.
What were my accomplishments this month?
I finished the 2008 CD calendar! Finished it before the 10th of the month even. But have I printed it yet? NO! Sheesh. I have been busy since I got back from Thanksgiving trying to get everything ready to start work on December 17, though, so it's not like I've been a total and complete bum. But if I don't get on the stick and get Christmas mostly done and ready before work starts, I'm going to be in all kinds of trouble.
What were Luke's accomplishments this month?
Moved to a big boy bed. Even more improvement on the talking. He is actually conversant now, as opposed to just randomly talking, which is really neat to see.
Anything else noteworthy to record?
Had the Toyota emblem for the front of my car stolen while it was at the dealer getting new rotors. That's about the wackiest thing I've had happen in a while.
Currently feeling:
hurried (harried?)