Previously:
Boston 2011 - Preplanning
Saturday was a terribly long day, but I must say, it really did go well. I'm not sure what time Mom and Dad (a.k.a. Nana and Papa) left their house or were on their first plane of the day. I do know that I got up at 5:30 so that I could have as much done as humanly possible before waking the child at 6:15. We merged onto the interstate at 7 AM, heading for the airport.
Checking in was mostly painless, other than finding out that our seats were separated. They were 2 and 1, so Luke wouldn't have to sit alone, but that really wasn't the point. When I had checked our itinerary just a few days prior, they were together; what changed?! We decided to head to the gate and work it out later. Other than the ancient foreign woman trying to get through the metal detector with her *cell phone* in her pocket (seriously?), security was quick and efficient, with no full body scan or pat down for any of us. I have to say, the more I travel, the more I appreciate the Atlanta airport.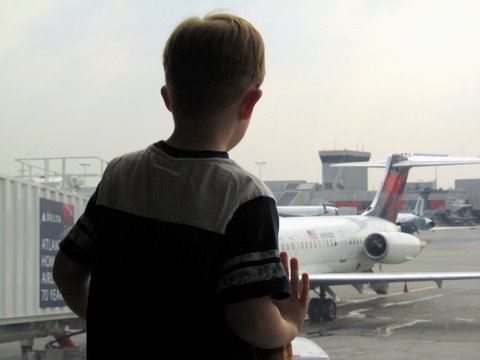 My parents landed while we were finding breakfast on the concourse. Apparently all fast food places, even chain restaurants, serve breakfast at the airport. We chowed down on biscuits and juice while watching the planes come in. We then picked some seats in the always crowded waiting area and checked on our flight seats, where we were informed by the gate agent said nothing could be done.
(Luke saw the warning stripes and said, "look, danger!", something he picked up at the GA Ren Fest.
Todd Key
should be proud!)
We actually boarded a little early, and the woman sitting in the row with our 2 seats was very gracious and agreed to sit in our single seat. I don't think she really wanted to swap, since her new row was about 8 back from her assigned seat, but it was still a window, plus I think she took one look at Luke and decided she didn't really want to sit beside him. Sometimes others' poor perceptions of children can work in our favor. It was looking as though we would even take off a bit early. Really, in Atlanta? That's unheard of!
And indeed, we actually ended up leaving late. Why? "We're carrying a maximum weight load today, so we were counting children to see if we could take on any additional baggage. We will be departing shortly. Thank you for your patience." You know what, I think that qualifies as TMI. I would much rather you simply have said, "sorry for the delay, but we now have all of the luggage on board and can depart." Sure, I wouldn't have been happy, but I wouldn't have been a touch freaked out either! You took into account the reduced weight of children so you could take on more luggage than you're rated for? (Did you take into account the heavy people (including me!) as well? I sure hope so!!) That doesn't really inspire my confidence. I'd really rather you just leave the bags! I don't care if it is my bag, it's not worth crashing the plane over. Obviously, everything went fine. Luke passed the time mostly by eating and drawing (and talking).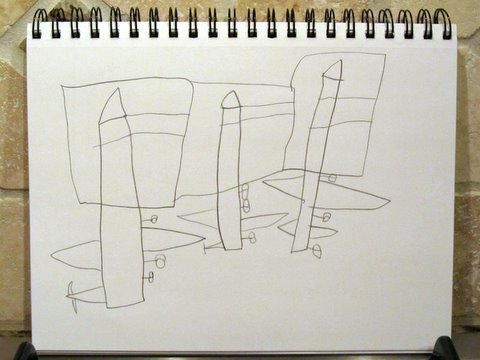 And, of course, looking out the window. Note the antenna coming off the wings in the second picture above. He noticed those while looking at the wing through the window and insisted on getting his pad out and adding them to his drawing.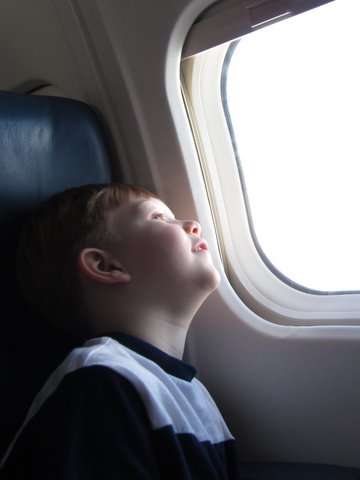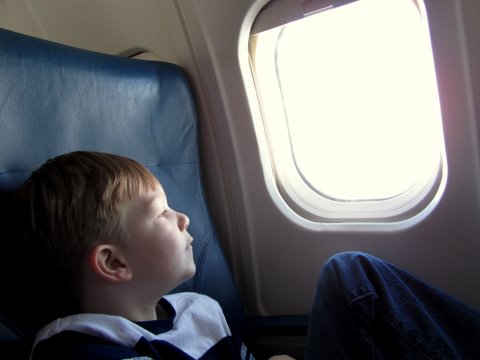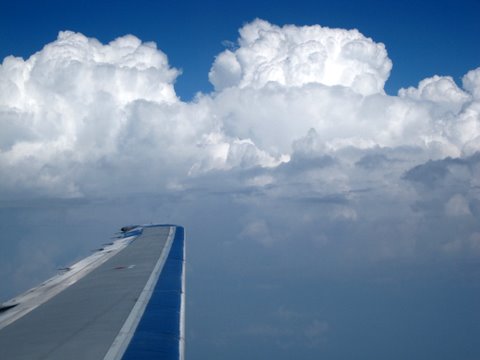 DH has terrible problems adjusting to the pressure, sometimes during take off, but mainly during landing. We discovered this the first time he got on a plane, which may also have been for our first trip to Disney (hard to remember now). He now uses special earplugs that really seem to help him. At least he's not scaring the flight attendants like he did that first time (they were ready to start asking if there was a doctor on board, he was in so much pain). Luke has flown twice now, but this is the first time he's had any trouble with his ears. The lollipop seemed to help, but whether it was a physical help or merely a distraction, I'm not sure (and I don't really care!).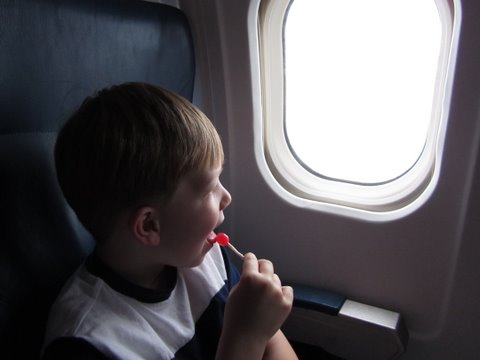 As we landed, we were greeted with a very unpleasant sight: rain. It was also cold! As I mentioned, it was around 72F/22C when we headed to the airport that morning. It was into the 80s (28C) already when we took off around 10 AM. So it was a bit of a shock to our system to find it only 63F/17C in Boston well after 1 PM (and it never really got any warmer on Saturday).
We picked up our 7 Day LinkPasses at the airport (Luke was free!), but after DH and my 2003 experience trying to handle luggage on the T, we opted for a taxi to the hotel. There was a van sitting in the taxi pool that easily handled the five of us and all of our luggage.
And we arrived at our hotel quite quickly there after. I present the
Courtyard by Marriott Boston Copley Square
, located at 88 Exeter Street in Back Bay, just around the corner from the Public Library and the inbound Copley T stop. (These photos were taken over several days, but not on arrival day. Too rainy!)
Right through that doorway is a stunning stained glass window, left over from the hotel's days as a men's boarding house, I believe. It was built in 1891, but only opened as a Courtyard in 2004.
Only one room was ready, so we dropped everything off in the available room and headed out for our first Boston adventure: a trip to Quincy Market for dinner.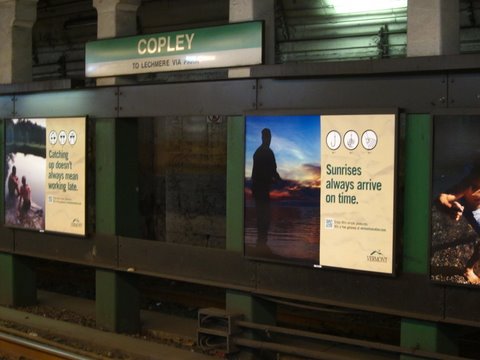 I think we arrived around 4PM, which was just too early to eat. DH and I had passed plenty of time shopping during our 2003 visit, but many of the stores had changed, and shopping with Luke isn't nearly as fun as shopping without him. Plus, there were a zillion people smoking! Wandering the cobblestones straining to breathe was not my idea of fun. I promise we all inhaled more second hand smoke in a single week in Boston than any of us have in the last 5 years combined. It was insane. To escape, we continued on back to the wharf area, and stumbled on this: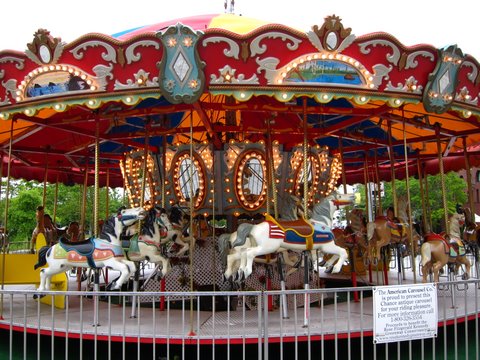 It was inexpensive and would kill a little time, so we let Luke do it. He didn't want to ride by himself, so DH rode with him.
Look, Mom, no hands! It took us a while to get him to look at the cameras instead of DH, but he finally did.
Still not time to eat, so let's walk a bit. We headed down the wonderful new Kennedy Greenway. So much nicer than the former interstate and Big Dig!
As soon as we saw this, Luke was begging (almost hourly) to do the Duck Boats. Patience, please! It's on the list.
There were some adults (I use the term loosely) running through this fountain, and Luke wanted to do it so badly, but we finally talked him out of it. Not only did we not want him to get his only pair of shoes soaked, but it was too cold to walk around for the next couple of hours all wet.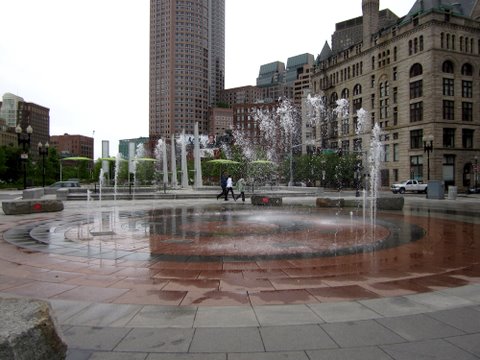 He finally settled for being allowed to run in the grass.
Between the time, the rain, and the cold, it was time to head back to eat. Instead of eating at Quincy Market, though, we settled on Legal Seafood, the very same Legal Seafood where DH and I dined in 2003 (near the Aquarium). I remembered it being very good, and we were not disappointed.
With the cold seeping in through our lightweight clothes, we warmed up with some clam chowder and lobster bisque. Both were quite good, though the lobster bisque at Epcot's Coral Reef is better, and we would have better clam chowder elsewhere during this trip. Dad got the fish and chips, the best of the trip. All the rest of the food was very good, though not exceptional. Mom got the crab cake combo with grilled shrimp and scallops, DH got a mixed grill platter with three kinds of fish plus shrimp and scallops, and I got the almond salmon. Luke stuck with the popcorn shrimp, which was very yummy!
After dinner, we headed back to the hotel. We moved our stuff into our now available second room, then Mom, Dad, and I all went looking for a place to buy some breakfast foods. There was a Shaw's right up the street, which we correctly concluded was a grocery store, but it is more akin to Whole Foods than Kroger. They didn't have Fruit Loops! Yeah, that's not going to work, particularly when I had promised some to Luke (they are only for special occasions, not daily consumption at home). We then walked in the opposite direction to a CVS right across from Trinity Church. More expensive than a traditional grocery store, but they had the right stuff: Cheerios, Fruit Loops, Pop Tarts, milk, orange juice, sodas, water, bowls, spoons, paper towels.
Given all the rain they were predicting for the week, we had to revamp the plan. Once again, I tried to do it either mentally or simply with a list, but I was ready to throw it across the room after only a few minutes. I finally tore pages from the in-room notepad into pieces, once again wrote each destination on a scrap (should have
brought my Post-It notes
!), and rearranged them. Finally made it to bed around 10 PM. Luke was likely to be up early the next morning, and we had a full day inside museums doing a lot of standing and walking. I needed to sleep fast!
Continue Reading:
Boston 2011 - Day 2, Part 1: Museum of Fine Art
Currently feeling:
and we're off!