Sunday morning started around 8:00 when Luke woke up (after the time change; he thought it was 7). We had set up our food station in Mom's room, since she had the refrigerator. We just needed to call over to "Chez Nana" (pronounced "shay nah-NAH") about 5 minutes before we showed up to give her a few minutes to wake up. We brought OJ, milk (shelf stable in 8 oz cartons), cereal, bowls, spoons, pop tarts, and granola bars for breakfast. (We also brought goldfish, Cokes, Sprite Zero, water bottles, and koolaid singles for our daily post-nap snack time.) DH also used that time to check on his fantasy baseball drafts and manage the league that he GMs (not sure that is supposed to be a verb, but it is now!). After breakfast, we headed back to our room for everyone's least favorite part of the day: sunscreen. Bleck! I *hate* putting that gunk all over my body, especially since you can really feel the "strength" of the SPF we have to use. SPF 70 spray on the extremities, and SPF 50 lotion on our faces. Ick, ick, ick! Plus, we're all out of practice at putting on both ourselves and Luke (not a fun battle), so we didn't even head out until 10 AM.
On our way to the Transportation and Ticketing Center (TTC) parking lot (you cannot drive straight to the Magic Kingdom, you must arrive by ferry or monorail), we passed the Princess Half-Marathon participants. I think it started at 7 AM; that must have been brutal the morning after the time change! But they all seemed to be doing well. We parked (I have photos of almost all of the row names and numbers so we could remember where we parked), and per our usual practice, we took the ferry over. Our philosophy: Take the ferry when it's busy, take the monorail when it's not. And due to the time change, lots of people thought they were arriving at 9 when it was really 10, so they were busier than usual that late in the morning. Mom snagged this great picture of Luke on the way over.
And I got this great shot of the dragon topiary with the zoom on the DSLR on our way to Tomorrowland while waiting on the boys to finish in the bathroom (why couldn't he go before we left?!).
Luke's first request was, of course, Buzz Lightyear. Since this was a much longer trip than we usually take (7 days of parks instead of 3-4), I really wanted to do some new things, but old favorites are important, too. But the best thing to me? Discovering something new about an old favorite. We took Luke's picture with Buzz in the queue (it really is impressive), and then I noticed the design of the queue rail, which I had never noticed before. It's the Star Command symbol! I'm usually so distracted by the Buzz and the ViewMaster, I'd never noticed it until the flash from the shot of Luke reflected off it.
After that, we were getting too close to our lunch reservation to wait in line again, so we hopped on the TTA, which almost never has a line. I snapped this photo of the castle and the Tomorrowland entrance sculpture while dodging support columns on the TTA. It's cropped a little (to get the rail and the top edge of the cover out of frame), but I'm really happy with how it turned out.
After that, it was time to meander over to the Liberty Tree Tavern, a place where I have never eaten while at Disney, though I have heard good things. They stopped doing character dining sometime last year, but I still wanted to try it. However, we hit a snag on the way: a parade. Excuse me, a "Street Party." Whatever. It is taking up the hub with floats and dancers, and it is (once again) between me and my destination! Being a street party gives it the advantage of running *several* times a day instead of just once. Joy. This thing would become the bane of my existence by the time we left Florida! But by being at the Magic Kingdom (instead of one of the other parks), you can still get from place to place by land-hopping. Instead of cutting through the hub, we went through Fantasyland and on around to Liberty Square. We were still a good 20 minutes early for lunch, so we took a group shot: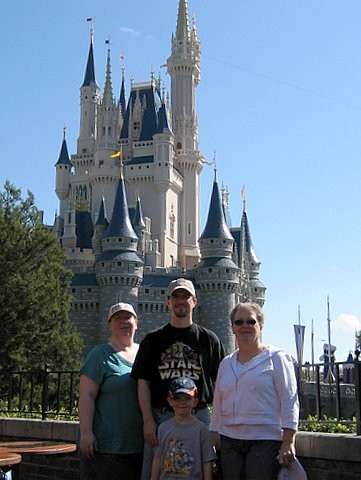 and decided we may as well check out some of the street party that was about 100 feet away.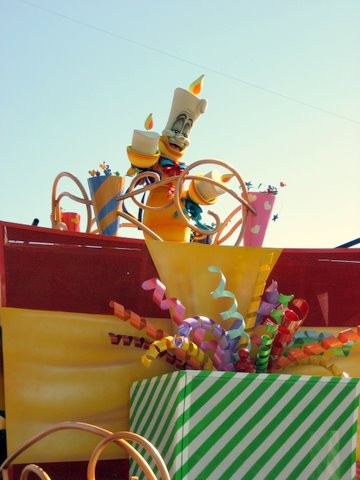 I thought Luke might enjoy it, since Woody was just off to our right, but he didn't. In fact, he didn't seem to be having any fun at all. That's when I realized that we had made a mistake that we had already made 2 years prior. Because we had been at the park less than an hour, it hadn't occurred to us to give him a snack, despite the fact that it had been well over 3 hours since breakfast! Normally, we wouldn't have given him a snack so close to lunch, but we didn't know how long it would take for our food to arrive after we were seated, and he was bordering on meltdown status. I whipped out a pack of fruit snacks, which he downed almost without breathing, and he visibly perked up. Crisis averted! The street party ended, and we walked across the little bridge, right to the Liberty Tree Tavern.
I ordered the signature pot roast, Mom got the turkey and dressing dinner, and DH got some sort of chicken pasta. Luke had the ever popular pizza with carrots and celery, and apples. (I also made a commitment to try and photograph at least our nice meals. Didn't always happen, but I gave it a shot.)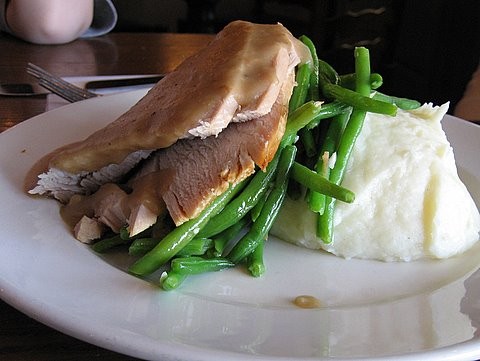 I was the clear winner with the adult meals. I whole-heartedly recommend the pot roast, as do my mother and husband. Mom's was pretty good but a little dry, and I thought DH's was just so-so (he liked it more than I did, which is good for him), but everyone agreed the pot roast was the clear stand out. For some reason, Luke decided to try the apples, which I could not get him to eat at home for anything. He ate nearly half of them, and they were green Granny Smith's, too! I was very surprised, but I also figured it was a fluke. We'd just have to see if it lasted.
Since we were already in Liberty Square, and since there is no good way to get to the Haunted Mansion from anywhere else in the park, and since I had heard they made some cool changes, and since there was no wait.... we went on and hit it before we left the park for nap. Some of the changes I liked (the paintings, the stairs), some I didn't (the bride, darkening some of the scenes so much it was hard to tell what was happening). Luke didn't like it at all, though, which is odd because it didn't bother him at all last year. He wasn't scared, per se, but every time after that we went through Liberty Square, he emphatically stated that he didn't want to do the "ghost ride."
On the way out, I caught this lucky shot. How often are you right behind the security section with *no one* around anywhere? I'm not sure I had ever realized that this was even on the ground! Seems like I noticed it a few years ago, but could never get a good picture because of all the feet in the way. When I saw it free and clear of peoples, I had to stop and take a picture.
We also decided to try an experiment. Because we almost never stay on property, the WDW bus system is generally useless to us. By being on site this year, we decided to leave the car parked in the lot and take the bus to and from the hotel for nap, which has the added advantage of not having to go via the TTC on the way back. WDW buses have a special route that drop you off right next to the ferry landing; guest cars are not permitted to take those roads and must park at the TTC. It was also a treat for Luke, who had not ridden a bus before. He thought it was great fun, but he was clearly very tired. If this look doesn't say, "take me to the hotel and put me down for a nap," I don't know what does! LOL
Because of our longer than average time spent at lunch (not the speediest service we've ever had) and the extra ride afterwards, we didn't get back to the hotel until after 2. By 5 PM, Luke was still asleep, and we didn't want to wake him if we didn't have to. He was stirring, so we knew it would be soon, but he just wasn't up yet. We decided to let him sleep, but we didn't want to feel like the rest of us were "wasting time." There was *one* ride that Mom and I wanted to do, but that DH wasn't interested in and that I was not comfortable letting Luke ride: Space Mountain. Now, Luke meets the height requirement for Space Mountain, but for every other thrill ride that he can ride, one of us can ride right next to him. Not so on Space Mountain; it is a row of 3 individual seats per car, 2 cars per train. Now remember, despite being about 44 inches tall, he is only 4 years old. I do not feel comfortable with him being in a seat by himself on a (virtually) completely dark ride. What if he got scared? What if he decided to try and stand up? I wouldn't be there to calm him or restrain him, and I was not comfortable with that at all. So, no Space Mountain for Luke. But how do Mom and I get on it without distressing Luke? Easy: ride while he naps!
So Mom and I hopped a bus to MK while Luke continued to nap. And just as the bus doors closed, DH sent a text message. "Luke awake and having snack. Will head to bus momentarily." Great. There was another bus coming in just a few minutes after ours due to the long line of people; we were the last ones to get on our bus. No way we'll have enough time to ride or even get in line by the time they get to the park. We decided to just hang out at the front of MK until they arrived. I got this great shot of the external window (facing out of the park towards the security tables) of the Main Street train station. I had never been able to read it before, but the super-zoom lens on the DSLR (and a little bit of cropping) made it easy. For those who may not know, Walt Disney was a *huge* train buff. This window reads, "Walt Disney World Railroad Office / Keeping Dreams on Track / Walter E. Disney / Chief Engineer"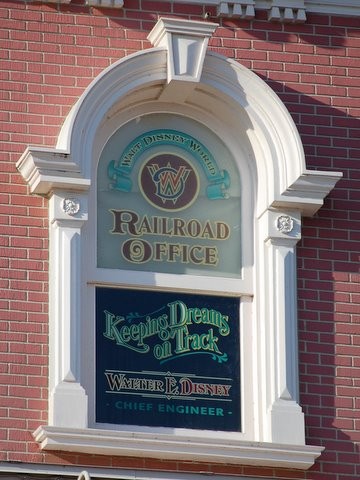 I got a few other good shots of Main Street (I took pictures while Mom shopped at the hat store), including this one of the castle that I am particularly proud of. It is cropped, but I still really like it!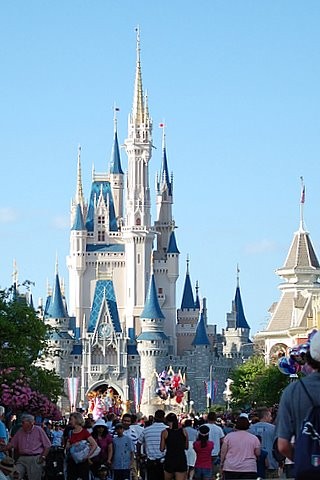 By this time, the boys had arrived. Luke was again requesting Buzz, and DH was more than happy to indulge (Buzz is DH's favorite ride, too!). The line said 20 minute wait, but that is manageable, so we got in. And we waited. And we waited. And we waited. 25 minutes later, and we were barely through 1/3 of the queue. It was also 6 PM by now, and I knew all of the counter service restaurants would be filling up. But we also didn't think it was fair to pry Luke out of line when he had already waited so long. So, Mom and I ducked out of the line and headed to the Starlight (Cosmic Ray's Starlight Cafe, I think is the official title these days) while Luke and DH continued to wait. The Buzz line started moving again about the time we got there, but it's a good thing we got out when we did. The line at the Starlight was to the door! Mom got in the chicken line while I got in the burger line. I had just sat down with our food when DH texted to say they were off the ride and on the way. Perfect timing!
I didn't want fries with mine, so I got apples instead. When the boys arrived, Luke immediately requested my apples. Um, okay. He ate the whole bag! These were red apples (not red delicious; looked more like galas, probably), but still. You could have knocked me over with a feather! From this point forward, he routinely *requested* apple slices with his meal! I'm still in shock, but I am also thrilled. We will definitely pick up some apples at the grocery store this week and hope it sticks!
After that, we were ready for "the train ride," but it's not the railroad that runs around the park. He meant Big Thunder Mountain! He had gotten to ride the previous year and *loved* it. Mom and I were only too happy to take him on it again. By the time we got over there, it was nearly parade time. I love the SpectroMagic parade, but I love Big Thunder more, and due to the parade being about to start, there was nobody in line. We rode 4 times in a row! Well, Mom and Luke did. Sometime during the second wait in line (only at the very end of the queue; waited less than 5 minutes), I got really hot. There was just no air circulation on the ramp down to the train. By the time we got off, I didn't feel so well. So I sat out ride 3, but returned for ride 4. During my time on the bench, I tried to get a good shot of the mountain itself with the DSLR. Didn't do too badly, but not so well either.
For ride 4, we got back in line, but the parade had ended, so the queue was a little longer. By the time we finished, the fireworks were starting. Luke was fascinated with them, so we watched. I even attempted some photos, though there was a tree in the way (you can see its silhouette in some of the pictures). I had to use my mini tripod, and there were kids sitting/bouncing on the fence post I was using as a mount, so most of them are more "squiggly" than I'd like (I'm sure that's a technical term, right?). These are the best shots I got. Still, for my first try at fireworks photos, I think they're pretty good.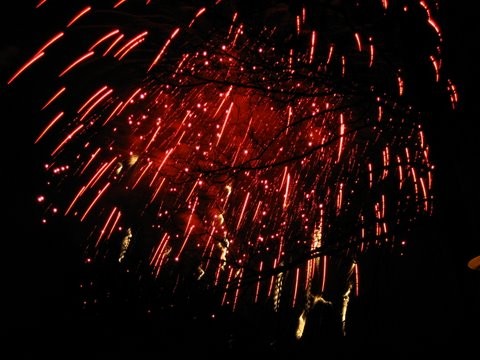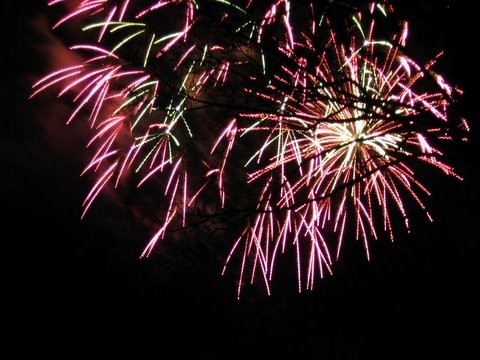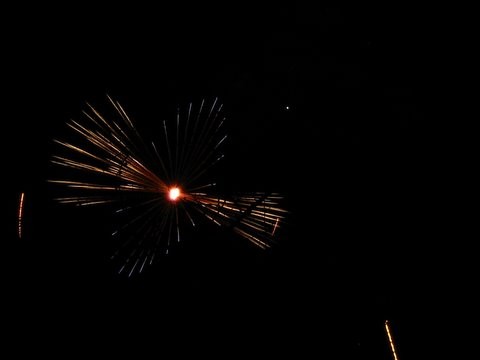 The park was open late that night, so Adventureland was still opened as we walked back to the front of the park. Pirates of the Caribbean, which we had not yet ridden, said it had only a 5 minute wait. How could we not? We literally walked onto a boat. I couldn't believe it! A great end to a very good day. We left the park via ferry, found our car right where we had left it 11 hours before, and headed back to the hotel.
In our next installment:
Disney 2009, Day 3: Epcot
.
Currently feeling:
still not recovered from vacation