Ah, Thursday, our "day off," so to speak. We had 7 nights at the hotel and 7 days of the park. That meant that we would spend at least part of 8 days in Florida (6 whole days, plus arrival and departure days). We only had two choices for games for the week we planned to go, Sunday or Thursday. Now, there were three good reasons to choose Thursday. 1) Weekend games are always much busier. 2) We didn't have to upset Luke by going to one park for half a day, then not going to a park at all the next day. And 3) It gave us a built-in break. As previously mentioned, we usually only spend 2-3 days in the parks. By Thursday, we would have done 4 whole days and a partial in the parks, quite a bit more than normal, and I knew we would be very tired. It seemed only logical to build in a break, and what better day than game day.
But we do have a 4-year-old, and they don't seem to appreciate the whole "sleeping in" concept. We did get to sleep until about 8 AM, and then Luke was ready to be up and at 'em. Another perk that came with our package was a free round of miniature golf, again one per package, so that got 2 people in, and we paid for the other two. When we first booked our trip, I had no idea when we would get to play, but later I realized that it made complete sense to do it in the morning before the game.
Plus, it had the added benefit of being something I had never done at Disney! It was also something that Luke had never done at all. He's just now old enough that I thought he could do it without killing someone or breaking some windows. I just hated that my father wasn't with us to see it (my father has been an avid golfer since childhood, until some recent health issues). It wasn't until after we arrived that it dawned on me that playing mini golf is something that DH and I had never ever done together. How is that possible?! We've known each other for 15 years as of this fall (I nearly fainted when I did that calculation; we met in college in September 1994, but didn't start dating until April 1995).
On the advice of several folks, we chose the Fantasia Gardens course. Kelli's comment reminded me to tell you how hard it was to find!It is located near the Swan and Dolphin. Signage is poor, and even when we got to the parking lot, we were not sure we were in the right place. Then I spotted the golfing sorcerer Mickey topiary. They actually have two courses, one that is more like a serious putting green and one that is Fantasia themed with all the wacky hills and ramps and tunnels. Of course, we chose the actual Fantasia themed one. We were handed some clubs (they chose perfectly for us; not their first time, I expect), we chose our balls, and we were off!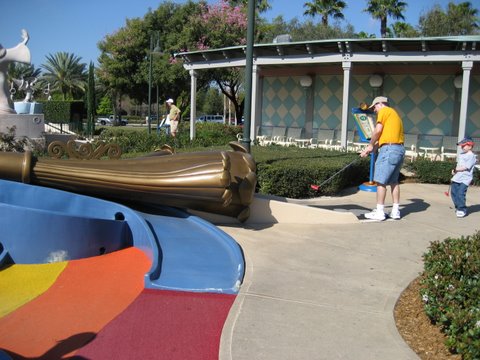 Here is DH at the start of the first hole. We kept score for the adults, but not for Luke. No sense in ruining the fun of the experience by making him adhere strictly to the rules. Here he is, trying to get the ball into the cup on his first ever mini golf hole.
I didn't have any such difficulty. ::insert smug grin here::
Yes, folks, that is my hole-in-one on the first hole of the course. Awesome! No skill, really, just luck in this case. But some skill was involved on later holes. And Dad, I was really amazed at how quickly the early putting lessons you gave me came back. It served me very well, as you will see. I tried make sure we got pictures of everyone playing, including me.
Not the most flattering picture, I know (can anyone look good with their rear end stuck out like that?), but I love it. We were having so much fun! Well, except for this one. As anyone familiar with mini golf courses can probably guess, the snowflakes were spinning as you tried to get your ball through the tunnel. Luke was not amused.
He had a lot more fun playing in the cave with Mom.
And he did eventually get a reasonable stance down for putting into the hole.
This hole caused a little consternation. Both Luke and DH had a little trouble with the water hazard.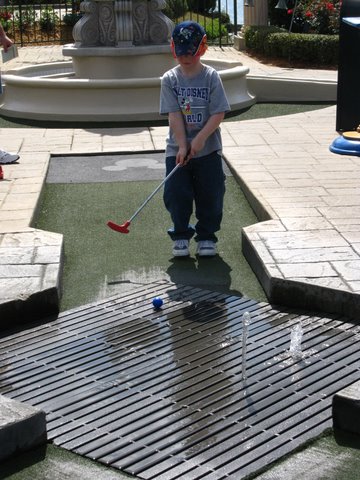 Mom encountered a water hazard of a different sort.
See the water shooting out of the buckets? Mom triggered it accidentally. I just happened to have my camera in my hand and snapped the first shot about the time it stopped. Now,
Heather
did tell me to be sure someone walked on the sidewalk instead of on the green, but she didn't tell me why, and I *totally* forgot! Otherwise, I would have sent Luke on the sidewalk, not Mom (at least not without warning her). For the second shot, I let Luke run down the sidewalk to trigger it mostly without getting wet. The next hole has sorcerer Mickey conducting the brooms, and I realized that if I was careful, I could line it up properly for this shot:
I think everyone scored a hole in one on the last hole except me. Well, and Luke. Here is his first stroke. Note the arrow indicating the ball's final resting place:
Not quite. Let's try again.
Hrm. How about up the ramp!
There we go. The water effect didn't fire every time, so I missed that picture. As is customary on mini gold courses, the last hole "eats" your ball, so I don't have any photos of the other holes-in-one either. We did remember to tell Luke that so he wasn't upset, but he really wanted that ball back! As we were leaving, they handed us each a limited edition golf ball. I had no idea we would get one. Nice perk! (I would post a picture if I could find ours; I'm sure they are around.) Ah, Dad came through with a picture of Mom's:
And here's how we did:
I double checked DH's math, and Mom's score (under N for Nana) should actually be 56, not 55. (M for Mommy and D for Daddy, for anyone trying to figure out the others.) And hole 10 has an asterisk and large numbers because it was closed, so DH used it as a sub-total line. I still can't believe how well I did! I think DH was a little shocked, too. He's not used to me beating him at anything, particularly a "sport." LOL After that, we had just enough time to get to the game over at Disney's Wide World of Sports.
I liked our seats. We were in the front row of the upper deck, just to the left of home plate. Not a lick of shade up there, but if there is any breeze, you can at least catch a piece of it (unlike in the lower deck). Still, it was pretty hot up there in the direct sun.
I
baked
lasted about an hour before I had to retreat to the second floor concession area. We stayed until the end of the 5th inning and called it a day. We did snap this group shot on the way out (complete with my doofy big sun hat). I did manage not to get sunburned at all on this trip, though, so it was worth it.
We went back to the room and napped, I think. I can't remember now if everyone napped or just me. (There was one day that I was the only one who slept; it was either game day or Animal Kingdom day.) Couldn't sleep too long, though. We had 5:00 dinner reservations at a brand new Downtown Disney restaurant.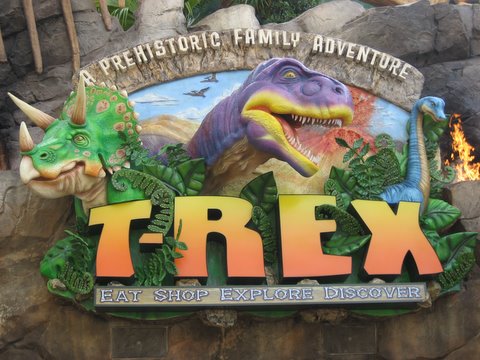 The T-Rex Cafe! Come on, once I learned about this restaurant, how could we *not* take Luke? It is run by the same people who own Rainforest Cafe, so we knew more or less what to expect. Here is Luke entertaining himself outside while we waited in line.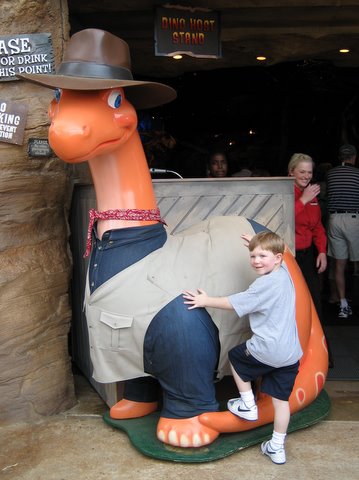 Oh yes, there was a line. A long one. Probably a good 30-40 people ahead of us, with more gathering quickly behind us. And there was no one at the Purple Elephant, sorry, wrong restaurant... the Dino Host Stand to check in with, just a flimsy hostess stand about 30 feet inside the entrance. The line was way outside and curling around the landscaping. Someone kept coming by and insisting that there were plenty of tables, but they were doing shift change, so they didn't have very many servers, so we had to wait. "Excuse me, we have 5:00 reservations, and I know most of these people don't. Is there another line we should be in?" No, ma'am, just wait here. Okay, so what was the point of making reservations if it made no difference as to when we got inside?! And who the heck schedules a shift change for a family restaurant at 5 PM?!!! They know how bad Rainforest Cafe (also at Downtown Disney) is by 5 PM. Good grief, people! It's not that hard. Did you not think the dining trends would be similar at this other restaurant you own? More likely you didn't share seating trend data across the different divisions, despite being owned by the same company and the restaurants not being 500 yards from each other, which is just stupid. It is poor planning and shoddy management. I was not a happy camper.
Then someone came down the line asking how many in our party. They explained that they were trying to figure out where in the line they would run out of tables, but kept insisting that there were still plenty available and that those of us so close to the front should not worry. The family behind us also had reservations, and they were about as
ticked
pleased as we were. "Excuse me, but we have 5 PM reservations, and it is already 5:15. Several families have already been seated." She said she would come back to get our names to take back to the hostess, and she did keep her word. Only by that time, we were just two families away from the hostess ourselves! I took these photos at the entrance while we waited (I *love* the solar system on the ceiling; the planets are about 3 feet (1 meter) in diameter):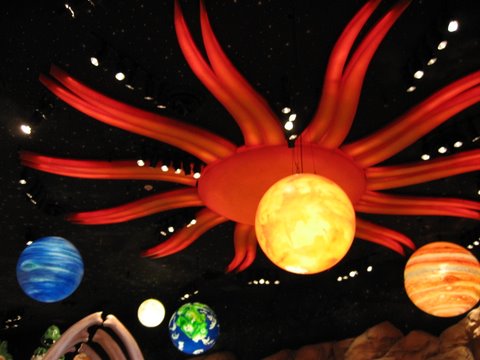 We were seated around 5:25, and though I was still fuming, my anger was tempered by the delight on my son's face. It really is very amazing visually. From our side of the table, Mom and I could see this *huge* octopus hovering over the bar on the far side of the restaurant. The tentacles even moved, and the eyes rolled and blinked. We were both very impressed with the jellyfish lamps.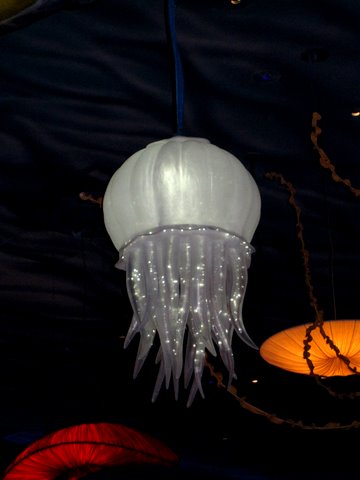 Closer to our seats were these mammoths, which were very impressive and lifelike (well, what I imagine they would have looked like when living).
From Luke and DH's side of the table was a good view of Luke's favorite dinosaur overhead. The wingspan on this thing was probably 10 feet or more. It was huge!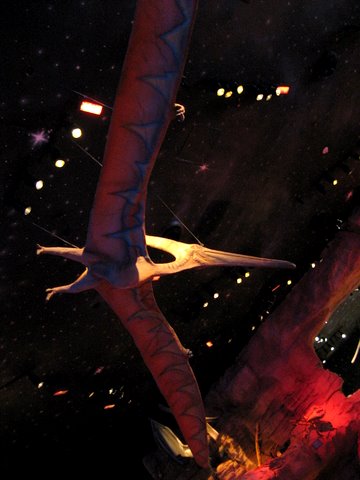 And right next to us, just over the half wall next to our table, was the Ice Room. Yes, it really was that blue! It did occasionally change color from blue to pink, and it turned red during the "meteor shower" (the T-Rex "cousin" of the storm at Rainforest).
I thought at first that it would be super cool to eat in that room. Then I had to actually walk through the room (to get to the restrooms on the far side). *Everything* was that blue. The tables, the chairs, the people, the food. It was weird, bordering on creepy, especially when it changed to pink or red. The back room had some of my favorite dinos in it like triceratops and stegosaurus, but it was mostly booths (instead of tables like the room we were in) and it was hard to really look around and see very much. I was really quite pleased with where we sat.
The food was quite good as well. Not the best, but very enjoyable. (Sorry the pictures aren't better this time.) They even brew their own sweet tea on site, something that no other Disney restaurant does, or so our server said. Having tasted the tea at many other Disney restaurants and having deemed it undrinkable, I'm not surprised. DH was brave and ordered a glass (I had a sip), and we were both impressed. Still not as good as mine, or Golden Corral's, but leaps and bounds above what you usually find down there. For meals, Luke was thrilled to have popcorn shrimp again (did you know there is no Disney park restaurant that has fried shrimp on their regular menu?). DH got the adult fried shrimp (and actually got to eat it all; Luke had plenty of his own this time), Mom got the parmesan crusted shrimp with linguini, and I got the lasagna. (Hey, I'm the only one who didn't get shrimp. I didn't realize that until I was typing it out just now!) All generous portions and quite tasty.
The only serious complaint I have (besides what happened with the seating procedure, or lack there of) is the noise level. It is flat out LOUD in there. I had heard that before we went, but I still wasn't quite prepared. Most people consider Rainforest Cafe loud; I find it noisy, but conversations with your own table and your server are easy enough. But at T-Rex Cafe? You have to speak quite loudly for your tablemates to hear you, and you and your server must nearly shout to communicate. And that's *not* during the meteor shower, which is almost deafening. Despite being the only real complaint, it really did mar the whole experience for me. I simply cannot recommend the restaurant for casual or only "mildly interested" diners. If you or your children are *huge* dinosaur junkies, then one visit is probably worthwhile (and I would still make reservations, just not for 5 PM apparently). But unless you are just absolutely dying to eat there, I'd recommend skipping it. Eat at Rainforest Cafe instead; it's just around the lake, and you can actually converse with your companions. Just my two cents.
After that, we did a little shopping, since this was to be our only visit to Downtown Disney. We hit the LEGO store, World of Disney, Once Upon a Toy, and the Pin Shop. I also managed to lose my camera. I know, right? I was at the pin store, I set it down when I put out all of my pin selections to see if I really did want to buy them all, an older gentleman struck up a conversation with me about pins, I gathered up my pins, and I walked off. Without the camera, apparently. I realized it within only a couple of minutes, but it was no longer where I had left it. I checked with each of the cashiers, and one of them had it. I was so relieved. Again, losing items, particularly very important items, is something I never do, especially when on vacation. I try to be so very careful, and here I had lost a wallet and a camera within 36 hours of each other. We then returned to the hotel. After all, we needed our sleep. We still had a whole day and a partial day left at the parks!
Next time:
Disney 2009, Day 7: Magic Kingdom, Round 3
.
Currently feeling:
counting down, almost done