We did a little better Sunday morning with getting ready. Only took about 80 minutes instead of 120, and that includes breakfast, showers, and sunscreen. Luke had never been to Epcot before, so he was very excited. Got to the park around 9:20, which was perfect. All of the "have to be there before the gates open" people were already through security, so we walked right through. Now usually, the line for Spaceship Earth is miles long this early in the morning, so we skip it first thing and come back to it in mid-afternoon when everyone else is wandering the World Showcase. No need this time, though, and Luke was desperate to go "in the ball," so we did. Not a single picture I took inside turned out. Again, not really a surprise, but still disappointing. I've always thought of it as a very smooth ride, but you realize just how many bumps there are when you try to hold steady for a low light shot with a moving vehicle and moving animatronics. I like the refocused theme of the ride and some of the new scenes. As much as I like Dame Judi Dench, I miss the male announcers (Walter Cronkite and Jeremy Irons were my personal favorites).
Next stop was Test Track. I had no doubt Luke would *love* this ride, and I was right. Luke was very interested in the queue displays, and I love this cute sign.
Luke thought the three "surface test" rooms were interesting. He scrunched up his face every time we went through the heat room (I am so glad this picture turned out well!),
shivered every time in the cold room (I hear there is a 100 degree difference between the two), and just to prove he really was listening to the narration, got very concerned that the corrosive robots were supposed to be turned off but they were still active. (He doesn't know what corrosive means, but he did understand that they should be off and were not.) And then, of course, comes the actual reason people really ride the ride: the outdoor speed test! 65mph on a 50-degree banked track! It totally rocks. I didn't realize until we got off that Mom had never ridden it either. She should tell me these things! I got this shot of Luke on our third ride. I think it may well be my most favorite picture of all 1800+ that I took while we were there. In this case, it is definitely worth 1000 words (or more) about how much he likes this ride.
And let me tell you, trying to *take* a picture without the viewscreen visible (Luke was sitting to my immediate left), with your arm fully extended out in front of your body, all while going 65mph on a banked curve and pulling some extra Gs, and still getting the child (mostly) in frame? It's hard!!!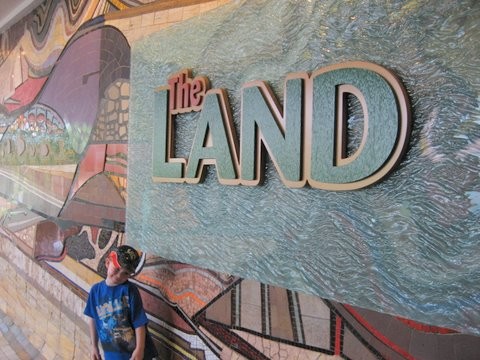 After three rides on Test Track, it was time for lunch. We had no plans to venture into the World Showcase before nap. It was fine to stay and go with the limited selections in Future World. And by limited, I mean they have 6 food venues in total. One of those is only open for dinner, one is essentially reservation only unless you want to wait an hour or two (Coral Reef, which is not worth the price, IMO), and one of those is an ice cream shop. Not the best lunch options. That left three: a new pizza stand that is only open seasonally, the Electric Umbrella, and the Sunshine Seasons food court at The Land pavilion. Now, Sunshine Seasons tries to pretend they are all about healthy, so there is no pizza, no fried chicken fingers, and no french fries to be found. They do have roast chicken (like drumsticks), mac & cheese, and pb&j, and in their defense, most children do at least eat one of those three things. Except my child! But that's okay, I had a plan. We'll pick up either pizza from the stand by Test Track or chicken fingers from the Electric Umbrella and take it with us for the adults to eat at Sunshine Seasons. Problem solved!
Or not. The pizza stand was closed (that's okay, I knew that was likely to be the case), but so was the Electric Umbrella! How do you close the only "burgers and fries" joint in that half of the park?! That was so *not* part of the plan. I guess they just figure everyone will head over to the World Showcase for lunch (a zillion places to eat over there), but that is a long way to walk just to eat and then turn around and walk back to leave for nap. So we headed to the Sunshine Seasons (which was bonkers because there was no other "counter service" food available in Future World), and ended up with this for lunch:
That is three sodas, a milk, a container of apple slices, two small bowls of grapes, a bag of pretzels, and two bags of chips (Lays and Doritos). More like a snack than a lunch, right? Cost us nearly $30!! I about croaked, but there was nothing else Luke would eat (he had apples, pretzels, and some chips). We did briefly contemplate leaving and trying to find somewhere else to eat, but Epcot is closest to our hotel with really nothing in between, and we had no idea what the hotel food court would look like by the time we got there (it would have been noon or a little after when we got back). We also didn't think it was fair for the adults to get full meals and leave Luke with only apples and pretzels for lunch, so we all just agreed to have a good dinner and go with this little bit for lunch. We did check on Soarin' while we were there, but the stand-by line had a 90 minute wait, and they were out of fast passes for the day. Oh well.
We stopped for a few pictures on the way out. These Fantasia ostriches were really impressive! The Flower and Garden Festival was scheduled for the week after we were there, so these were probably in preparation for that event. We also took our group shot for the day. We got in an early nap, for a change, which was nice, and we were back in the park ready for dinner.
Now there was also a dinner plan, and it went much better than the lunch plan! I was trying to plan some meals that were *not* burgers and fries and such, and Epcot is the perfect place to do that. Most countries feature a restaurant (or two) at their pavilion if nothing else. Many years ago, my best friend and I ate at the Mexican pavilion inside at their nicer restaurant. I had one of those sampler type plates that had about 4 different things on it, and I didn't really care for any of them. (I guess I like my Mexican food Americanized). But it also came with refried black beans, and I thought I had died and gone to heaven. They were amazing! So when I was researching a good counter service restaurant at the world Showcase, and I found out the Mexican Cantina served refried black beans along with some items that were more my style (read: tacos, burritos, quesadillas, etc), I desperately wanted to eat there for dinner. But again, nothing Luke would eat. I had intended to pick up a pizza or chicken on our way through Future World, but again, both of those options were closed.
The next closest place to get chicken for Luke? The American Adventure, literally half-way around the circle of the World Showcase from Mexico. DH volunteered to make the circuit while Mom, Luke, and I did something fun/distracting. (For anyone unimpressed, know this: that means DH walked an extra 1.2 miles (1.9 km) just to get chicken for his son for dinner.) Luke had been begging to ride Spaceship Earth again, so we'll just do that. Except that Spaceship Earth is experiencing technical difficulties and is closed. Um, uh, er.... wait, we'll be eating at Mexico anyway, and there's a boat ride there that usually has a minimal wait. I knew it had been rethemed to Saludos Amigos since I had done it last, and I figured Luke would enjoy it. Indeed, I was right.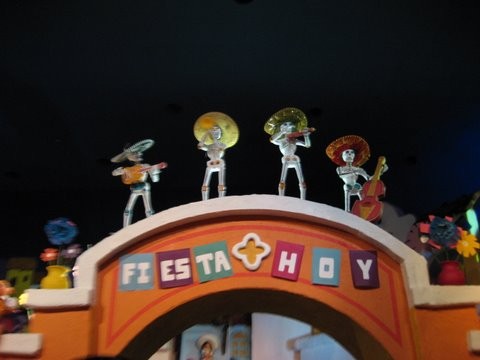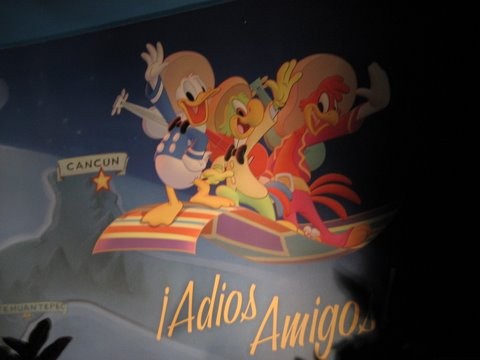 By the time we did the boat, glanced through the shops, and got back outside to the Cantina, DH was back with Luke's chicken. We ordered from the Cantina (forgot to get pictures, we were so hungry by then!), inhaled our food like we hadn't eaten all day (oh yeah, we hadn't!), watched the birds stalk us for crumbs, and then departed for our next World Showcase destination: China.
We had finished eating at about 6:10. We wanted to see the Chinese Children Acrobats perform, but the next (and last) show was not until 7. We needed to kill a little time, and Norway was in our path. Why not let Luke ride the Maelstrom? I didn't feel very well, so I stayed behind as they went in. The sign said the wait time was about 15 minutes, which was fine. After about 15 minutes, I got a text from DH that said they had hardly moved in the 15 minutes they had waited, and the line was showing no signs of moving, so they bailed out and we headed on over to China. Because we were there early, we had great seats right next to the carpet they used, and I hoped for some great photos. Everything was backlit by the bright sunsetting sky, but I used the spot exposure setting and did okay with the camera. Check it out!
First was this girl, who moved these bowls around with her hands and feet. She showed that they do stack and unstack, so if she had dropped them, they would have gone everywhere. And the second shot above? She put the bowls on her feet, then used her feet to get them on her head, all while standing on her hands. Then came this girl:
I didn't get any good shots of her first short act, but these came from the second part. That is some sort of small rod balanced on the bridge of her nose. All of the separation plates and cups are individual. She got the first 3 layers or so on there by herself, but needed help for the top ones. And those ladders? They are two free-standing ladders. No one is holding them, and they do not fit into slots or holes on the ground. She just held one in each hand (while still balancing that thing on her nose!), and climbed up.
And lastly was this group act. Those circles you see are like small rounds of felt or carpet that they kept spinning at all times, either on their hands or their feet. The most amazing trick (that there was no real way to capture on film) was when one girl stood on another girl's shoulders. Only the top girl had spinning discs, and we were soon to find out why. Bottom girl then did a back bend, and as she bent her hands towards the ground, top girl *walked* down her front until she was standing on her belly. I was amazed, and so was Luke! They all got lots of genuine applause from him. After it was over, Luke begged to go into the replica of the Temple of Heaven (Ina, is that right?). The only other thing I really wanted to do while we were there was see the revamped China Circlevision film, so in we went.
I had heard it was very good, and I have loved Circlevision films since I was a kid. They are exactly what they sound like. You set up 9 or 10 (I forget which) cameras so that you film an entire 360-degree view of your surroundings. You also have to stand for the entire film so you can turn and see all the screens. I had no idea if Luke would like them (like I did) or be totally bored (like most kids). The film was 14 minutes long. He was fascinated almost the entire time, not getting fidgety until literally the last 90 seconds or so. I was so proud!
After that, everything pretty much shut down. It was after 8 PM, so the last showing of most "entertainment" at the pavilions was over. Everyone was gathering for Illuminations, the "nighttime spectacular" show done on the lake at the center of the World Showcase. It has never been one of my favorite night shows (sorry, I know plenty of people who adore it), and our two days of no-naps were coming up soon. We decided that maybe an early night was best. We did hit Mouse Gear at Innoventions on our way out. It is one of my favorite Disney shops, and I learned right before we left on this trip that it is the second largest Disney store at Walt Disney World (second only to The World of Disney at Downtown, which is the largest Disney store in the entire world (gee, go figure)). We also picked up some more sunscreen. That is the only item I underestimated on for the entire trip, but it was very important that we all wear it, so we paid the ridiculous prices at the park just so we wouldn't have to go out later. We were tired suckers with money, what can I say? Actually, Disney paid for them, since we each had a $200 gift card for booking our package before a certain date (one for us, one for Mom's package), so I wasn't all that upset about it.
We did get to play on the concrete squares that have fiber optic lights built into them. Luke (and Mom) thought they were amazing. Spaceship Earth was closed for the night (all of Future World closed at 7 while we were there, except the shops of course), so we headed on out. Luke was thrilled to get to see some of the fireworks from the car as we drove.
Next time -
Disney 2009, Day 4: Magic Kingdom, Round 2
.
Currently feeling:
on a roll