Oh yes, Hothlanta 2011 continues. Why? Because Day 2 looked like this:
And day 3 looked like this:
I thought this was a good sign (at least *something* is melting):
But that also means that most of the roads, especially the small ones (like, you know, in neighborhoods where people actually live) keep refreezing into solid sheets of ice at night. The snow on the ground, as you can see above, has hardly changed, other than to become smooth and glassy on top. It is really weird! I'm not sure I really managed to capture it in these photos. It just looks like an ocean of ice out there.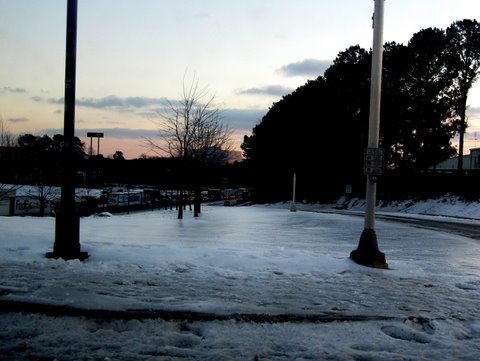 As you can see, we did manage to get out of the neighborhood this evening. DH shoveled the driveway Tuesday afternoon. (Yes, we had a large flat-bottomed shovel that we bought for our old house that had a steep driveway.) The two main roads out were still quite treacherous, covered in sheets of ice for a few yards/meters, but we managed okay. We were hoping to go eat somewhere and try to support the businesses that had made an effort to be open. We knew the interstates had been reopened. Again, the interstates are the roads that Atlanta focused on getting clear and keeping clear, so they were going to be the safest way to get anywhere. I was agape at what we saw as we merged onto the interstate:
I know, my friends who are used to snow are wondering what on earth I am taking a picture of. See all that gray snow lying in chunks on the roadside? That doesn't happen here! It is something I have only seen in photos or news footage from up north. You might see a thin layer (1 inch, 2-3 cm) of gray slush over there when you are finally able to get out and about, but several inches to a foot of it, and all in large chunks like that? Unheard of! I have literally never seen it before with my own eyes. So weird.
Anyway, we did finally make it to dinner, though it took a few tries. Our first attempt was Piccadilly, but it was obvious from the main road that they were closed. Not a single car in the parking lot, which I have never seen before during business hours. Great. Plan B? Surely the mall is open, right? The world would have to be ending for them not to be open. Maybe not all of the food court stalls will be open, but perhaps a few will. Nope! Same story, not a single car in the parking lot, which was still covered in snow and ice. Great. What else is near by?
No chance a small place like Bambinelli's is open, right? Their overhead sign wasn't on, and we were crushed, but as we got closer, we could see the neon signs in the windows were on. Let's give it a shot. The first entrance to the strip mall was too dangerous to attempt, but the one on the other side was pretty clear. As we turned the corner, we could see that the street just past the driveway was closed off. Barrels, tape, and a police car blocked the way. You know what is just a block past that point? See that yellow 25mph school zone light above the cop car? That is for Luke's elementary school! There is a steep hill that leads to the school, and the road was too icy to be safe, so the city shut it down. Given that it was now about 6PM Wednesday evening, I'm guessing that means no school for Thursday. At this rate, they may as well cancel for the whole week!
Thankfully, Bambinelli's is open. In fact, they had 4 servers sitting by the door when we walked in, plus a few more in the back. Not a single table was occupied. "Are you really open?" Yes, they were, and they were thrilled to see us! They had it toasty warm inside; it was bliss. They did get a couple of more tables full by the time we left, but the server-to-table ratio was still about 3 to 1.
We've only started going to Bambinelli's again in the last few months. We had been there ages ago, but it wasn't very close to our old house, so we didn't make the effort. It is very convenient to the new house, and we've been eating there once a month or so since the fall, I think. We usually get the same thing each time we go, but in the spirit of the
fiasco
adventure that this whole evening had become, DH and I each tried something new. He went with the chicken parmesan, and I had the stuffed shells. (Oooo, feel the excitement! LOL) I also did something that I only do a few times a year, and had never done at Bambinelli's. I got dessert! The oreo cheesecake caught my eye, so I asked the server what he thought of it. "Oh, it is very good. Probably my 3rd favorite on the dessert menu." Oh, so what is your number one favorite? "The cannoli. They're really really good. Everyone raves about them." Okay, well, the last decent cannoli I had was in Little Italy in New York City. I've tried lots of bad ones since then. "Well, ma'am, I've never been there, but lots of people eat here, and they all love them." You've convinced me, I'll give it a shot.
Holy Cannoli! O. M. G. That is one of the best cannolis I have ever had. Ever! Possibly better than the one from Little Italy (that was 15 years ago; hard to say for sure). As you can see, I almost didn't stop long enough to take a picture. The filling, which is usually where restaurants go wrong IMO, was not only the perfect texture, but it was also served at the right temperature (cold, but not to the point of being too firm). It was sweet enough for me (I like them quite sweet), well flavored, and not overwhelmed with chocolate like some places. The pastry shell was not quite as fine as perhaps it could have been, but that is a very minor complaint. Not only was it amazing, but it is also one of the least expensive desserts, making it dangerously tempting for future visits.
It was so rich, I could not eat the whole thing, no matter how much I wanted to. The rest is sitting in my refrigerator right now. Given how today went at work (not well), complicated by having the child home with me while my husband went to work, I think I'm going to need the rest of it to comfort me Thursday or Friday!
Currently feeling:
yummy in my tummy