After watching so many people have so much fun doing giveaways last year on their blogs, I decided I wanted to do one this year, but I had no idea what to give away. Then I got my cube timer for Christmas. I mentioned it in that post, but I'll describe it here again.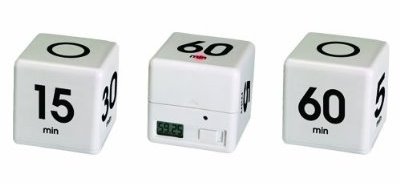 The cube timer bills itself as "the world's simplest timer." (I borrowed the picture above from Amazon.) It comes with 4 pre-set increments: 5 minutes, 15 minutes, 30 minutes, and 60 minutes. With the 0 side facing up (on the top face), the timer is off/ready. To set, turn the cube so that the desired number of minutes is on the top. A single beep will sound and a red light will begin to blink. The bottom of the timer shows the countdown (and has an on/off switch). When the timer goes off, set the cube so that the 0 is once again on top, and the beeping stops. I am totally in love with it, and I thought you might find it useful as well. No affiliation, just a happy consumer!
Interested in having one? I will make a random drawing from comments on *this* post. You can have a maximum of two entries:
1) Simply leave a comment on this post. Please include your email address! Blogger does not have email address as a comment field, so please include it as part of your comment. (It is fine to use AT and DOT in place of the characters, as long as I can successfully decipher the email address.)
2) Leave a second comment stating that you mentioned this giveaway on your blog. It doesn't have to be in a dedicated post, just as part of some post on your blog before the deadline. Please include a link to your blog, and again, please include your email address in your second comment, even if you included it on your first comment (makes it easier on me, thanks).
Comments will be closed as of 5PM Eastern time on Monday, January 17. Each comment will be numbered, and I will select the winning number using
random.org
. I will notify the winner via email Monday evening, and I will post the winner here on my blog. The winner will have until 10PM Eastern on Wednesday, January 19, to respond with her/his mailing info, or I will redraw. I will ship to anywhere via the cheapest method.
Any questions, let me know. Good luck!
Currently feeling:
excited!