Luke will be Star of the Week for his class next week. I'm sure each kid gets to do it one week, but I think it is a great way to spotlight each child and have classmates learn more about each other. He had to fill out this form: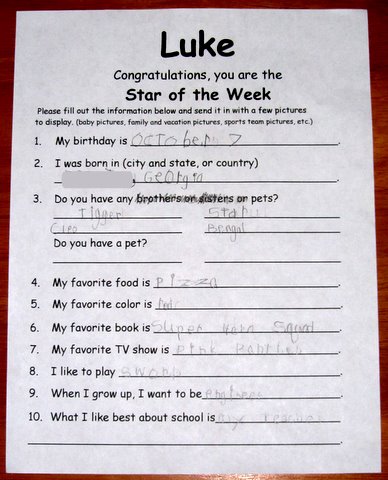 His answers (with help on spelling) were:
My birthday is October 7.
I was born in ***, Georgia.
Doyou have any brothers or sisters or pets? Tigger, Cleo, Star, Bengal
My favorite food is pizza.
My favorite color is red.
My favorite book is Super Hero Squad.
My favorite TV show is Pink Panther.
I like to play swords.
When I grow up, I want to be engineer.
What I like best about school is my teacher.
He came up with "my teacher" all by himself. I'm sure many of you think that he said engineer because of his parents, but not really. He originally wanted to put Iron Man, and maybe we should have let him. We tried to get him to go with a "real" occupation, so then he wanted to know what Iron Man's job was. Engineer or businessman was about the best we could come up with, and of those two, he chose engineer.
He also had to take in some photos. It suggested baby pictures, family and vacation pictures, sports team pictures, etc. I thought this was a nice little cross section. I think all of these were posted previously on the blog. (And can I just say that it is terribly hard to take a picture of photographs!)
Currently feeling:
stellar