We've spent the last several days gearing up for Halloween. I decorated my cube at work:
And painted my nails. This is Sinful Colors Pumpkin Spice over Orly Goth. In retrospect, I should have gone with a plain black creme on the bottom, but it's fine.
And I finally found my favorite Halloween candy (at Big Lots, of all places). I thought they didn't even make these anymore, they've been so hard to find the last few years. These are Mary Jane Peanut Butter Kisses, in my spiffy new jar from Target (on sale for less than $5).
Sunday, we picked out a pumpkin. I love this picture!!
Pickings were a little slim, but we still ended up with a nice one. It was a little larger than we intended, but we got a good deal on it from a local church. Star was fascinated with it! (We haven't carved a pumpkin since we've had her, so she's never seen one before.)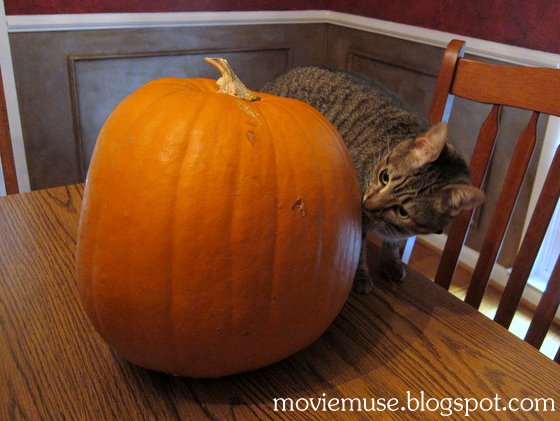 Since we needed the pumpkin for a carving party at scouts, Luke had to help clean it out. He did quite a good job!
But before we could get to actually carving the pumpkins tonight, we had some business to take care of. 24 boys received their Bobcat badges (the first one you earn, for things like saying the oath), the most ever at one time in the history of the pack. We received our first parent pin, and Luke also got his first beltloop for the bowling trip from last week.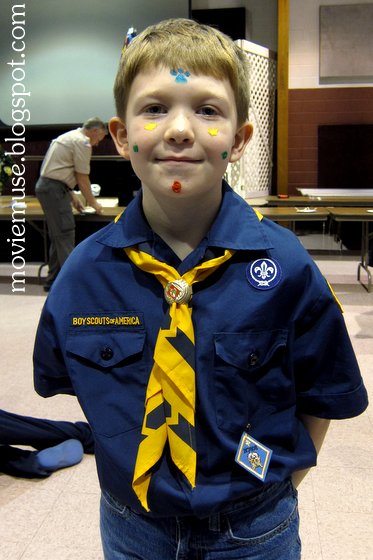 And then it was time to carve!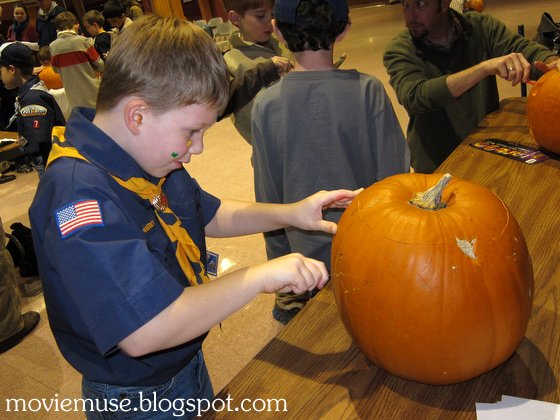 Luke did the eyes (we helped him turn/restart in the corners) and most of the left wing all by himself.
Even I have to admit, it looks pretty awesome. We used the free Bat-O-Lantern template from
Orange and Black Pumpkins
.
Currently feeling:
ready for Halloween